Asean Summits open with Covid response dominating discussion
The 38th and 39th Summits of the Association of Southeast Asian Nations (Asean) opened on October 26 with discussion focussed on joint efforts to contain the Covid-19 outbreak, among other issues.
The summits and their related meetings took place online and under the chairmanship of Brunei, which is the Asean Chair for 2021.
Prime Minister Phankham Viphavanh led the Lao delegation attending the summits under the theme "We care, we prepare, we prosper".
At the 38th Summit, Asean leaders reviewed and highly valued the progress made on Asean community building despite member states contending with outbreaks of Covid-19.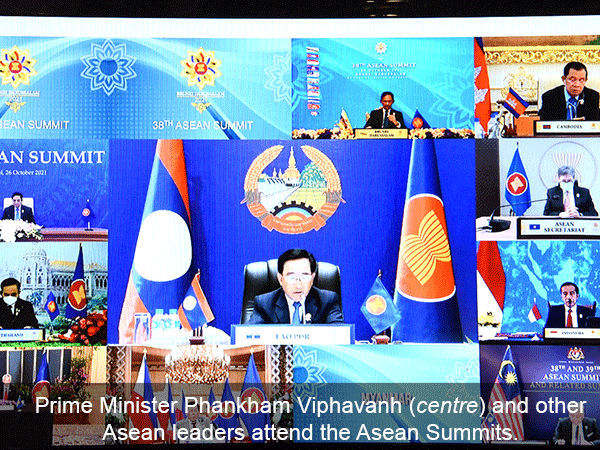 The leaders discussed joint efforts to respond to the pandemic. They noted the establishment of health centres and the Covid-19 response fund as well as the establishment of an emergency and natural disaster response fund.
Laos has contributed US$100,000 to the Asean Covid-19 response fund and another US$50,000 in humanitarian aid for Myanmar via the Asean Coordinating Centre for Humanitarian Assistance on Disaster Management.
The region's leaders also discussed exchange visits by people within the region as well as a travel cooperation framework within Asean amid the pandemic.
PM Phankham, on behalf of the Lao government, expressed heartfelt gratitude to Asean member countries for the valuable support and assistance extended to help Laos deal with the Covid-19 outbreak.
The prime minister called for further cooperation among Asean member countries in the fight against the pandemic.
Strengthened cooperation in the fields of regional connectivity and supply chains was also tabled for discussion.
The meeting noted that initial preparations had begun for the drafting of a post-2025 Asean community vision.
The 38th Summit adopted several documents including initiatives on strengthening Asean's synergy in response to natural disasters and on promoting multilateralism and blue sea economic cooperation.
At the 39th Summit, Asean leaders reviewed cooperation between Asean and its dialogue partners, and noted the important role played by Asean in the regional and international arenas.
PM Phankham underlined the importance of Asean centrality, consensus and solidarity when it comes to Asean relations with outsiders.
The leaders also discussed other regional and international issues of mutual interest.
Asean leaders also attended summits with Asean dialogue partners - the 22nd Asean-R. Korea Summit, the 24th Asean-China Summit, and the 9th Asean-USA Summit.
The Asean leaders and their dialogue partners highly valued their cooperation and pledged further collaboration, notably in the fight against Covid-19.
By Times Reporters
(Latest Update October 27, 2021)