Australia boosts support for Laos' fight against Covid
The Australian government has donated medical equipment worth AUD2.25 million through the World Health Organisation (WHO) to the Lao government for use in the response to the Covid-19 outbreak.
The donation includes chemical reagents and other laboratory supplies for Covid-19 testing.
Australia's AUD2.25 million contribution will help the government to increase its virus testing capacity and expedite testing in the provinces. This funding is in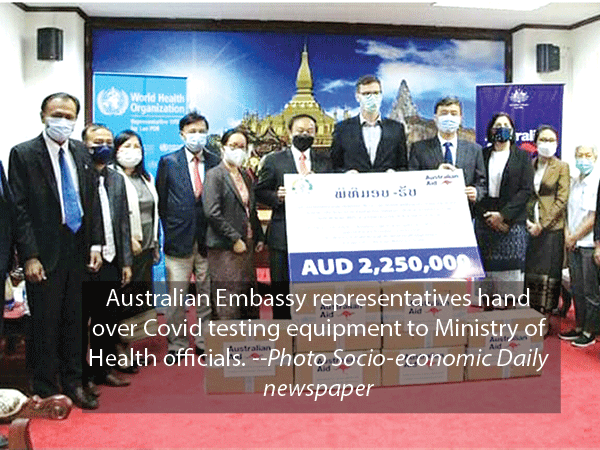 addition to AUD16.2 million committed by Australia to assist Laos to ensure the safe and effective delivery of vaccines. Australia is committed to supporting Laos in the fight against Covid-19.
The equipment was handed over last week by Australian Ambassador to Laos, Mr Paul Kelly, to the Minister of Health, Dr Bounfeng Phoummalaysith.
Dr Bounfeng said the ministry was very grateful for the support from the Australian government, especially as cases of Covid-19 were increasing, with the figure standing at 13,909 on August 25.
"The Ministry of Health will be able to get virus test results in a shorter time, especially in the northern and southern provinces, thanks to the provision of this equipment," he added.
Ambassador Kelly said Australia is proud to assist the Lao government in the fight against Covid-19. Australia is committed to providing more than 127 billion kip (AUD 18.45 million) to Laos to provide safe and effective vaccination services.
Support from the Australian government has enabled health officials to reduce transit times and sample testing at the central level, expediting work to reduce the spread of the virus.
Since the outbreak, the national laboratory's testing capacity has increased from 500 samples per day to 2,000-3,000 samples per day.
Funding will be provided to provincial laboratories to ensure they meet biosecurity and quality standards.
By Times Reporters
(Latest Update August 30, 2021)