Authorities to penalise Covid rule-breakers
Authorities warn that anyone who infringes the rules on Covid-19 outlined in Prime Minister's Order No. 15 will face penalties such as fines, and be held responsible for any losses incurred.
The warning comes after many people have failed to comply with government guidelines, resulting in the spread of the virus in numerous communities over the past month.
Speaking at a press conference on Sunday, the Vice Mayor of Vientiane, Mr Phouvong Vongkhamxao, underscored the need to strictly enforce all of the measures imposed by the government to contain the virus.
"If we do not all strictly comply with the lockdown rules, we will not be able to keep the virus in check over the next two weeks. I urge everyone living in red zones to please stay at home. Don't go out if it's not essential."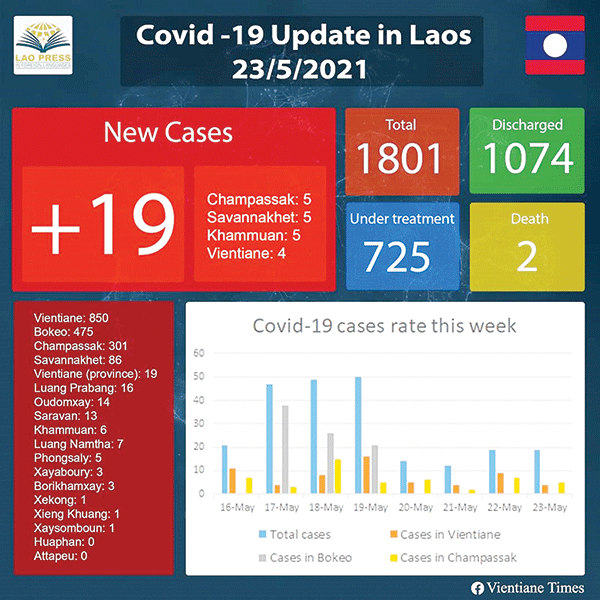 Mr Phouvong said he was aware that the lockdown was disrupting economic activities but stressed that it was the only way to keep the virus from spreading.
He informed the public about a notice signed by the Mayor of Vientiane on Friday, which introduced additional restrictions that will be enforced by authorities over the next two weeks.
These include the closure of beauty salons, barber shops, tourist attractions, food gardens, casinos, cock fight rings, night markets and gaming shops. Gatherings and activities that involve more than 10 people are prohibited, while schools will remain closed until June 4.
Parties of any kind are banned, along with collection points for donations of items that could be contaminated with the virus.
Exercise is also prohibited on football pitches, the That Luang esplanade and in Chao Anouvong Park unless social distancing can be observed.
A total of 28 villages in Vientiane have now been designated as "red zones", where residents are known to have contracted the virus. All disease control efforts are now being focused on local communities.
Meanwhile, restrictions will be eased in markets, shopping centres and general shops and they may now remain open until 10pm. But shoppers must comply with all the virus prevention measures.
Restaurants and cafés may serve food and drinks on a takeaway basis and the transport of goods between districts is also now allowed.
Over the past month, the government has attempted to flatten the curve of Covid infections, but community outbreaks remain a great concern. On Sunday, 19 new cases were reported after 1,631 samples were tested for the virus, bringing the total number of cases since March last year to 1,801. These included four new cases in Vientiane, five in Champassak, five in Savannakhet, and five in Khammuan.
On Friday, 12 new infections were reported nationwide after 1,059 samples were tested. These included Vientiane (4), Champassak (2), Savannakhet (5) and Oudomxay (1).
On Saturday, 19 new cases recorded after 1,377 samples were tested. Vientiane recorded nine, Champassak seven, Savannakhet two and Oudomxay one.
By Somsack Pongkhao
(Latest Update May 24, 2021)