Bokeo police seize 6 million amphetamine tablets
Police in Bokeo province on Monday seized a shipment of 6 million amphetamine tablets after stopping vehicles travelling through Tonpheung district.
The incident occurred after police were informed by a local resident that a vehicle carrying a large load of drugs would be travelling between Tonpheung and Huayxai districts. They set up a roadblock and snared two suspect pick-up trucks.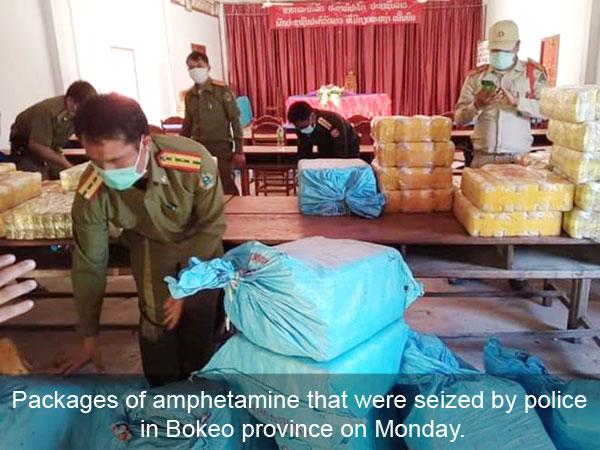 When police approached the vehicles, one of them drove off at high speed while the second parked 50-60 metres away and the driver ran away.
Police searched the pick-up and found 30 bags of amphetamine containing 6 million tablets. They are now trying to track down the drivers of the two vehicles so they can be brought to justice.
Bokeo is located within the Golden Triangle region and is a transit point for the illegal trade in narcotics. Provincial police are working with their counterparts in China, Thailand and Myanmar and other provinces of Laos to stamp out the drug trade in this area.
The government is cracking down on drug abuse and trade and provincial police are beefing up efforts to stem the rising drug trade.
Public security officials across the country are clamping down on criminal activities and many drug dealers and traffickers have been arrested and jailed. Police in Borikhamxay last week made another arrest after finding a man with 35kg of crystal methamphetamine in his possession.
According to the Lao National Commission for Drug Control and Supervision, drug dealing and abuse are increasing in Laos, with crystal methamphetamine, amphetamine and heroin being the most commonly traded drugs.
Most drug trades occur in the Golden Triangle area, with drugs passing through Bokeo, Luang Namtha and Oudomxay provinces on their way to neighbouring countries.
By Phomphong Laoin
(Latest Update October 28, 2021)