Champassak upgrades tourism infrastructure

The development of tourism-related infrastructure in Champassak province is now 66 percent complete, with access to tourist attractions being improved in anticipation of larger numbers of visitors.
Development is taking place under the Second Greater Mekong Subregion Tourism Infrastructure for Inclusive Growth project, funded by the Asian Development Bank (ADB).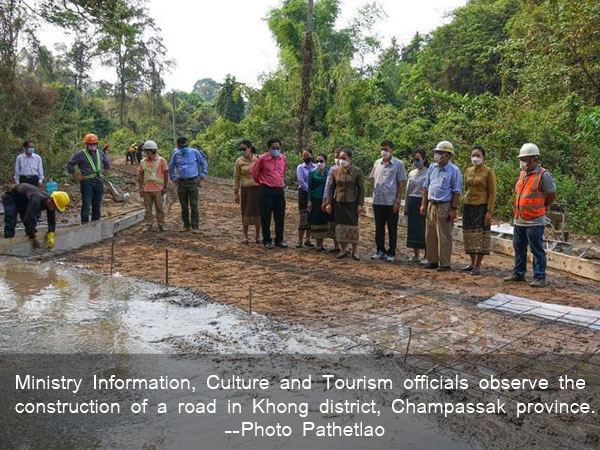 Project officials gave a report on the progress made to date when the Minister of Information, Culture and Tourism, Mrs Suansavanh Vingaket, and her delegation visited Khong district on Wednesday.
The ADB is funding the project with a grant of US$4 million, with construction taking place from May 2020 to May 2022.
However, the contract period may be extended because work has been slowed during the Covid-19 outbreak.
The project aims to provide better transport facilities for tourists. Mrs Suansavanh said the new amenities would be a fitting gateway to the area's natural wonders.
The minister advised the committee responsible for the developments to take environmental aspects into consideration and to minimise the impacts on local residents, while also ensuring that the new facilities were of a high standard and would be well maintained for long-term use.
The project aims to improve urban and rural transport infrastructure and urban environmental services, and strengthen capacity to implement regional tourism standards in Cambodia, Laos, Myanmar and Vietnam.
It will help transform secondary towns in the Greater Mekong Subregion (GMS) Economic Corridors into green, inclusive and competitive international tourism nodes to boost trade in services and deepen market linkages between members of the GMS and the Association of Southeast Asian Nations (ASEAN).
It will also expand economic and social opportunities for rural and urban residents.
Improved access to tourist attractions in peri-urban and rural areas will increase economic opportunities for poor and lower-income families and generate positive spillover effects in a range of subsectors.
Expanding the quality, coverage and affordability of urban environmental services will improve the health and living conditions of poor residents.
By Times Reporters
(Latest Update March 18, 2022)