Champassak, Savannakhet, Khammuan ease Covid restrictions

Some provinces have decided to ease Covid restrictions so that people can travel and carry out their jobs but, because of the continuing number of infections, everyone must comply with the rules to prevent the spread of the virus.
Authorities in Champassak province, which has seen a high number of cases of Covid-19, have decided to remove the checkpoints that were set up roads in villages and district to restrict travel.
In addition, Grade 5 classes in primary schools can now resume, as well as Grades 4 and 7 in lower and upper secondary schools. Vocational training centres and the university can also reopen.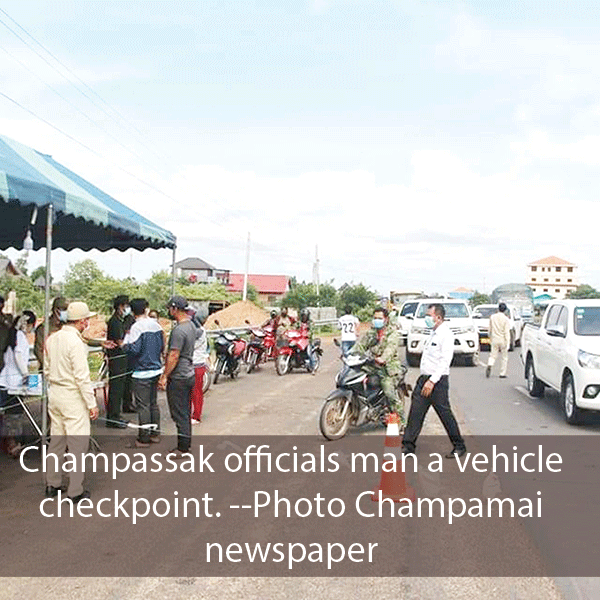 Some schools and other educational facilities which are being used as quarantine centres and to house people who have tested positive for Covid-19 will remain closed for the time being. Pre-school classes will also continue to be suspended.
Restaurants and coffee shops can open for business but must only offer takeaway or delivery services, not sell alcohol, not allow people to eat on site, and must close before 8pm.
Outdoor sports such as golf, football and exercising can resume but the owners of sports facilities must make plans to comply with Covid rules and submit these to the provincial taskforce for Covid-19 prevention and control.
In the meantime, entertainment venues, massage parlours, spas, beauty salons, barber shops, tourist sites, internet cafés and snooker clubs will remain closed.
Travel on roads will be banned between 10pm and 5am, except in an emergency or when authorised by a local Covid-19 taskforce.
Savannakhet province is also easing restrictions. Barber shops, beauty salons, markets, supermarkets and other shops will reopen but must operate in line with virus prevention measures. Shop owners and customers must also produce a vaccination certificate.
Government officials can return to their offices but must have a vaccination certificate, wear a face mask and use hand sanitiser before going to work, and must observe social distancing rules.
The transport of goods and passengers between districts is now freely allowed, except in and out of Kaisone Phomvihane city where permission must be granted by the provincial Covid-19 taskforce and service providers and users must have a vaccination certificate.
Travel in Kaisone Phomvihane city will not be possible between 10pm and 4am except in an emergency, but authorisation must be obtained from a Covid-19 taskforce.
No boats may operate on the Mekong River except with permission from provincial authorities.
In Khammuan province, people may now travel between districts, but must obtain written permission from their village office.
Recreational walking, badminton, golf and other sports are allowed but must not involve more than 10 people. Participants must comply with virus prevention measures and not gather together after playing a sport.
Over the past month, the government has attempted to flatten the curve of Covid infections, but community outbreaks remain a great concern.
On Sunday, 19 new cases were reported, bringing the total number of cases since March last year to 1,801.
By Times Reporters
(Latest Update May 25, 2021)