China sends new aid package to support Covid-19 battle
A new aid package amounting to 15.5 billion kip (10 million Chinese yuan) provided by the Chinese government arrived in Vientiane on Monday to bolster efforts to contain the coronavirus outbreak.
Laos is struggling to contain the outbreak, which began in the middle of April, sparked by two Thai nationals who entered Laos illegally and visited other parts of the country in the company of two Lao women.
As of May 10, the total number of cases had skyrocketed to 1,327, when 25 new cases were reported. Some 237 Covid patients have been discharged from hospitals and one woman has died from the disease.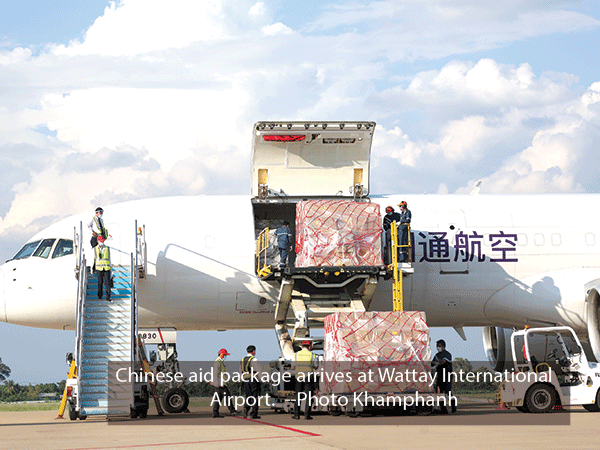 As the outbreak spreads, the government has mobilised assistance from various sectors and friendly countries to supplement the government's resources.
Accepting the delivery of China's new aid package at Wattay International Airport, Chairman of the National Taskforce for Covid-19 Prevention and Control, Prof. Dr Kikeo Khaykhamphithoune, said he highly valued China's assistance.
Dr Kikeo, who is also Deputy Prime Minister, described the aid as 'timely assistance' in the fight against Covid-19.
The support package includes ventilators, disinfectant, masks for medical staff, gloves and protective clothing for medical staff, and Covid-19 test equipment.
Chinese Ambassador to Laos Jiang Zaidong represented the Chinese government to hand over the supplies.
Dr Kikeo, representing the Lao government and people, expressed heartfelt gratitude to the government and people of China for the assistance and the aid previously provided.
On May 4, China sent 25 medical specialists and staff and medical supplies to help Laos tackle the Covid-19 crisis.
The specialists and staff have been working in Vientiane and the provinces to help their Lao counterparts in the battle to contain the virus.
China was the first country to donate Covid-19 vaccines to Laos and has so far provided more than one million doses of Sinopharm vaccine, according to a source at the Lao Ministry of Health.
Speaking at the handover ceremony on Monday, Dr Kikeo said China's assistance reflected the concern, attention and caring nature of the Party, government and people of China towards Laos during these times of hardship and challenges.
It also reflected the friendship engendered through the spirit of comprehensive strategic partnership of cooperation in line with the four goods - good neighbours, good friends, good comrades and good partners - and the building of a community with a shared future between Laos and China.
China's support is a contribution to the marking of the 60th anniversary of diplomatic ties between the two countries and Laos-China Friendship Year 2021.
By Times Reporters
(Latest Update May 11, 2021)