City authorities embark on roadside tidy-up campaign

Vientiane authorities are launching a tidying-up operation on Nongbone road near Nongchanh market in the city centre by banning parking, as part of efforts to prevent the arbitrary use of pavements for parking and use by small business owners.
The Vientiane City Office for Management and Service on Tuesday issued a notice banning motorists, vendors and shoppers from parking on the section of Nongbone Road between the bus station and the That Foun traffic lights.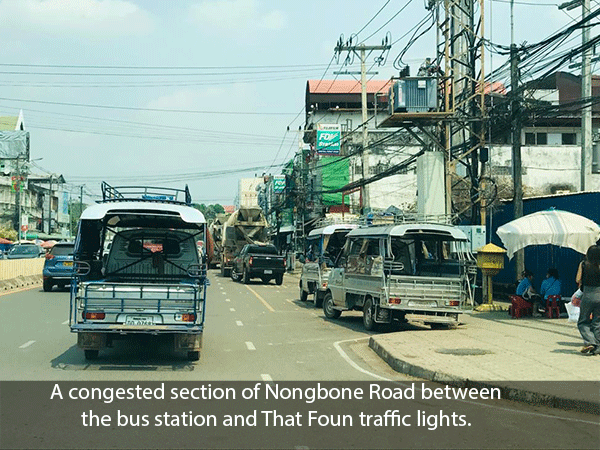 The aim is to create more orderly parking and reduce traffic congestion. Parking is now forbidden from 7am-5pm on Mondays to Fridays.
Beginning on March 9, the Vientiane City Office for Management and Service is partnering with the Vientiane Public Works and Transport Department, Vientiane Public Security Headquarters and other officials to keep the road clear.
Those who ignore the parking ban will be fined.
The Vientiane Public Works and Transport Department recently also teamed up with district authorities to crack down on the use of pavements to sell goods, after many stalls selling food and other items had been set up on pavements and roads in the city centre.
A total of 149 incidents were addressed and 152 obstructions were removed from roadsides.
The department also investigated 12 areas where flooding occurred on roads and addressed these issues in Phakhao, Saphangmeuk, Donnokkhoum, and Sikhaithong villages.
Numerous advertising signs were also removed, with 32 being taken down on T2 Road and 73 signs removed from the 450 Road. On other roads, 123 signs or obstructions were taken down and 17 makeshift shops were disassembled.
In addition, department officials monitored activities at 65 roadside construction sites that were creating dirt.
This year, the department will continue to tidy up and monitor roads in the capital, improve traffic signs, and raise awareness of the regulations at schools and in other institutions.
Work to make the city more orderly by clearing roadsides of obstacles is part of attempts to reduce traffic congestion and make life easier for pedestrians.
Meanwhile, traffic lights are being repaired and upgraded by Vientiane authorities.
According to the Vientiane City Office for Management and Services, authorities are continuing with repairs and the upgrade of traffic lights along main roads after many ceased to function, leading to traffic congestion in the rush hour.
By Phomphong Laoin
(Latest Update March 10, 2021)