Comply with control measures to curb spread of Covid: PM

Prime Minister Phankham Viphavanh has called for everyone to be on the alert and strictly comply with Covid-19 control measures to contain the virus, even though there has been a drop in new community-acquired cases.
"Laos is still at a high risk of a major outbreak of the virus due to the spike in infections reported in neighbouring countries," Mr Phankham said.
"We should not be careless, but need to support the government's battle against the virus and prevent any new community outbreaks."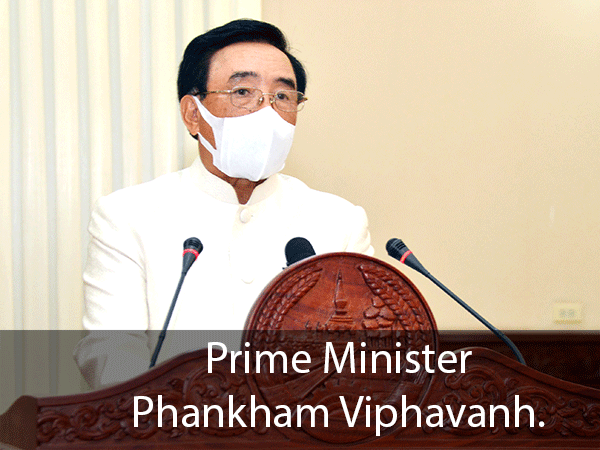 The call by the prime minister came after the government announced the extension of virus control measures outlined in PM Order No. 15 for another 15 days until August 3.
Mr Phankham stressed the need to continue some restrictions because of the growing number of migrant workers returning from Thailand, where the virus is spreading rapidly. At least 15 percent of returnees have tested positive for Covid and severe outbreaks of the highly infectious Delta variant have been reported in neighbouring countries.
"We need to strengthen our responsibility in obeying virus control measures and adapting to a new normal to prevent further loss of life," he said.
The enforcement of virus prevention measures has resulted in some success over the past three months, resulting in a decline in new community-acquired cases, he added.
However, everyone should act as good citizens, avoiding parties of any kind and being truthful when reporting Covid-risk movements to authorities.
The prime minister said he was aware that the return of Lao workers put pressure on quarantine facilities and stretched the capacity of health services.
However, he urged returnees not to enter Laos illegally as they could bring the virus with them and pass it on to their families and communities.
"I urge returnees to contact a Lao embassy or consular office and to enter at official border crossings. The government regards the legal entry into Laos by Lao workers as an act of patriotism and love for their home country," he said.
"On the contrary, those entering Laos illegally will be deemed to be contravening the country's laws and taking the risk of bringing the virus to damage the nation. Anyone doing so will face legal action."
The prime minister also urged people who are self-isolating not to leave quarantine facilities before the set date, because they may not have any symptoms of Covid and could unknowingly transmit it to others.
Mr Phankham also stressed the importance of the vaccination programme to cut the chain of infection, saying that the government will try to ensure that 50 percent of the population is inoculated by the end of this year.
So far, more than one million people have received a first dose of a Covid vaccine, while at least 743,940 people have received a second dose.
The prime minister said he was certain that more shipments of vaccine would be delivered, which the government would distribute fairly throughout the population. Therefore there was no need for people to fight to get vaccinated as such behaviour risked spreading the virus.
BySomsack Pongkhao
(Latest Update July 21, 2021)