Covid outbreak will not end if people disobey lockdown rules
Two women who left the red zone apartment (infected area) where they lived so they could self-isolate in a hotel in Vientiane have tested positive for Covid-19.
The two women had been told to quarantine at Oudomphone Apartments after previous infections were reported in the apartment block, Deputy Director General of the Department of Communicable Disease Control, Dr Phonepaseuth Xayamoungkhoun, told the daily press conference on Wednesday.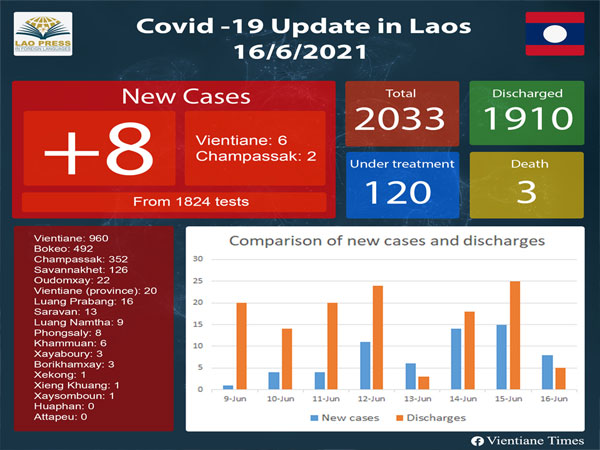 Since the apartment building was classified as an infected area, residents were asked not to leave or enter it in order to contain the spread of the virus.
However, the two women, who were among the six new cases reported in the capital on Wednesday, left the apartment building to self-isolate in a hotel without informing the authorities.
It is not known if the pair went to other places while staying in the hotel as authorities are still investigating the matter.
Vientiane residents are losing hope that the lockdown will be lifted any time soon as new cases of the virus are reported daily.
The country is currently in the throes of a fourth lockdown, with the first one starting in mid-April and the current one scheduled to end on June 19.
On Wednesday, eight new infections were recorded, bring the total number of Covid-19 cases since March last year to 2,033.
These occurred in Vientiane (6) and Champassak province (2). Meanwhile, almost 1,900 people have been discharged from hospitals.
Dr Phonepaseuth said that in order to rapidly identify people carrying the virus, health officials are setting up more mobile units to collect samples for testing from people in at-risk locations.
These include government offices, markets, places of education, and factories, where a vast number of people are employed.
Some 500 samples have been collected at Thongkhankham market, along with 283 samples from people in Nongtaeng Neua village and 168 samples in Kaolew village, but all of these have tested negative.
Dr Phonepaseuth said the community outbreak of the virus will not end if people continue to disobey the government's prevention measures, especially social distancing, to keep the virus in check.
Family members, relatives and friends are continuing to visit one another and hold parties, causing the virus to spread.
"I urge members of the public to be ears and eyes by reporting to the police anyone who behaves unlawfully, such as holding a party, entering Laos illegally or leaving quarantine facilities," Dr Phonepaseuth said.
Authorities have warned that they will penalise anyone who lies or gives incorrect information to health officials, especially those who are infected with the virus.
One of the main challenges facing health officials is tracing people whose Covid tests are positive and preventing them from passing on the virus to others. Without rapid tracing, community outbreaks in the capital will continue.
By Somsack Pongkhao
(Latest Update June 17, 2021)