Domestic tourism booming after travel curbs eased
Although few foreigners have arrived in Laos after the government reopened the country to international travellers this month, local people are making up for the absence of foreign visitors and tourism is booming.
Lao Airlines has added more flights to the most popular destinations while tickets for train travel are sold out every day, including for first-class seats.
Now that travel restrictions have been lifted and the railway is operational, Lao people are on the move in droves, with the provinces of Vientiane, Luang Prabang and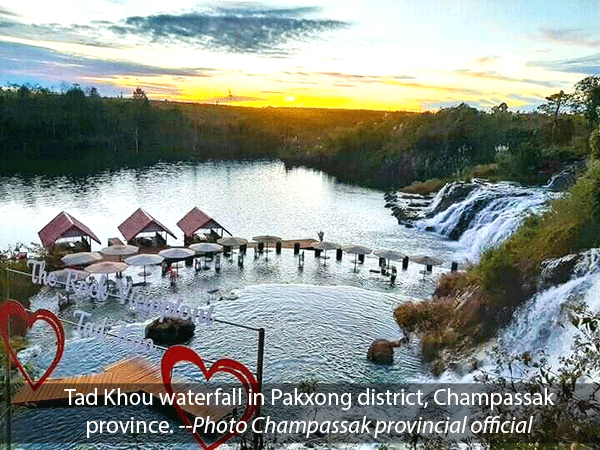 Champassak being the top favourites, according to the Ministry of Information, Culture and Tourism.
The Director of Lao Airlines' Commercial Department, Mr Noudeng Chanthaphasouk, told Vientiane Times that the airline has added daily flights to Luang Prabang, Luang Namtha and Champassak provinces.
Laos-China railway authorities have limited the number of passengers on one train to 700 people, to prevent crowding and help prevent the spread of Covid-19, according to the Pathetlao Daily newspaper.
Most people make trips to Luang Prabang and Oudomxay provinces and to Vangvieng district in Vientiane province, where there are numerous places of interest.
Since Laos officially reopened to foreign tourists this month, there have been only a handful of visitors, mostly from the Republic of Korea, because some countries have introduced travel restrictions after the emergence of the Omicron variant of Covid.
Nationals of China, Vietnam, Cambodia, Thailand, Malaysia, Singapore, Republic of Korea, Japan, France, UK, Germany, Netherlands, Spain, Italy, USA, Canada, Australia, Brunei, Indonesia, the Philippines, Norway, Sweden, Finland, Israel, Austria, New Zealand, Poland, Denmark and Belgium are now allowed to enter Laos for the purposes of tourism.
However, travel is restricted to designated "green travel zones" in Vientiane, Luang Prabang province, and Vangvieng district, Vientiane province, from January 1 to March 30.
Travel destinations are limited because of the difficulties involved in opening up the whole of the country while Covid control measures are in place.
Visitors must be part of a package tour arranged by specific travel agents authorised to operate in the selected areas.
People cannot enter Laos unless they have made a booking with a tour operator and will be denied entry by the National Taskforce for Covid-19 Prevention and Control if they have not done so.
All arrivals must have had two doses of a Covid vaccine less than 14 days prior to travel and must have purchased life insurance. They must also have had a negative RT-PCR test result less than 72 hours before entering Laos.
Prior to arrival, visitors must download the LaoStaySafe app to register and provide proof of double Covid vaccination and the negative RT-PCR Covid test result.
Visitors must also purchase health insurance that covers them for medical expenses amounting to a minimum of US$50,000, according to the Ministry of Information, Culture and Tourism.
ByTimes Reporters
(Latest Update January 26, 2021)