Election results could be announced in one week

The votes cast in Sunday's election of National Assembly (NA) and Provincial People's Council (PPC) members are being counted and the results submitted to district election committees.
Spokesman for the National Election Committee (NEC) Dr Somphou Duangsavanh told Vientiane Times on Monday that it could be a week or longer before the committee can finalise the vote counts and announce the list of NA and PPC members.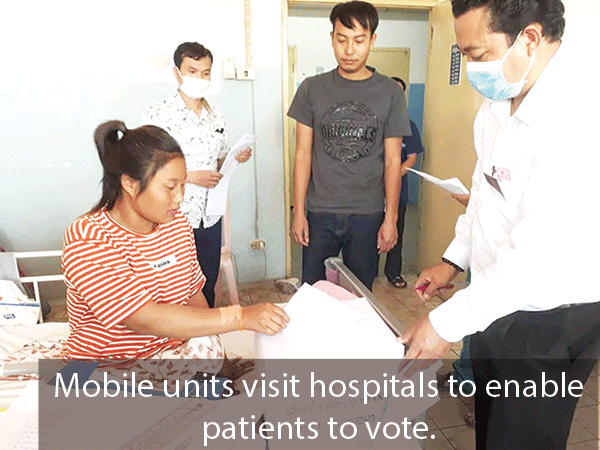 "The Election Law does not stipulate the exact date when we should announce the outcome after voting takes place.
We need some time to inspect the accuracy of the voting and counting process before we can make an announcement about the people who have been elected," he said.
Dr Somphou said officials in charge must ensure that voting at all 7,200 polling stations across the country was conducted fairly.
In principle, after the votes have been counted at polling stations, authorities submit the results to district election committees who then forward them to provincial election committees and the NEC.
Dr Somphou said the election was a great success with most eligible voters turning out to cast ballots on Sunday.
The election took place amid tight security and no invalid votes have been reported so far.
Voting officially began at 7am but many people began lining up at 6am. Polling stations were set to close at 5pm, but most people had cast their votes before then.
This reflected the fact that Lao people were fully aware of their obligation to elect 164 out of 224 candidates as NA members and 492 out of 789 candidates as PPC members.
Early voting and mobile voting units were arranged so that security officials and hospital patients could vote.
In total, some 4,280,000 people were eligible to vote but election committees are checking the number of votes cast to see whether everyone fulfilled their duty.
Elections are important because the National Assembly is the legislative body that makes fundamental decisions on behalf of the country, as well as overseeing the performance of the executive body, the prosecutor's office, and the people's court.
After the full list of NA and PPC members is announced, the National Assembly will hold a preliminary session in Vientiane for newly elected members to approve a new Assembly president, the president and vice president of Laos, the prime minister, and government members.
The assembly was founded in 1975, the same year that the Lao People's Democratic Republic was proclaimed following national liberation. Since then, more than 150 laws have been enacted to serve as legal instruments for the governance of the state and society.
Elections are held every five years, with the last one taking place in 2016.
By Somsack Pongkhao
(Latest Update February 23, 2021)