Extended lockdown essential amid ongoing challenges: PM
Continuation of the existing tough measures to contain the coronavirus outbreak is essential, Prime Minister Phankham Viphavanh has said in a clear reference to the nationwide lockdown.
The government has extended the lockdown for another 15 days until May 20.
The Overall number of Covid-19 cases remains high, the premier said in a statement issued on May 5.
On May 6, Laos recorded 105 new cases bringing the total number to 1,177 cases. The country is struggling to contain the current community outbreak of the virus which began in the middle of April.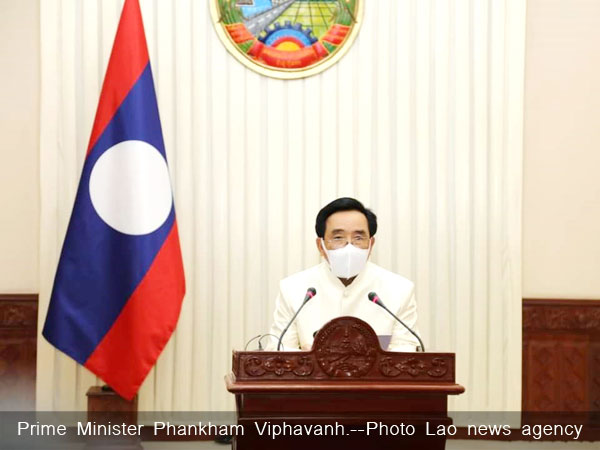 "The government is aware that extending measures will cause difficulties in people's daily lives," PM Phankham said.
"But we ask everyone to understand the situation and to be patient so that we may control and eventually overcome this virus outbreak."
He pledged that the government would do all it could to create conditions that would enable people to gradually normalise their lives as far as possible.
In addition, the government will introduce policies that will reduce the payment of various fees.
"Although these policies won't meet the requirements of all sectors and people, it is the government's intention to help in these times of hardship," he said.
The government, the National Taskforce for Covid-19 Prevention and Control and local taskforces will follow up and closely monitor the situation with a view to easing restrictions in areas where the situation is favourable.
But restrictions will be toughened in places where the outbreak escalates, the prime minister said.
With the overall number of infections remaining high, authorities have prepared makeshift hospitals across the country to ensure sufficient treatment facilities.
In Vientiane alone, three makeshift hospitals with 1,200 beds have been prepared.
PM Phankham admitted that there were challenges undermining the government's efforts to curb the outbreak.
He said some people refused to be admitted to a health facility after testing positive for Covid-19, which created problems for authorities in charge.
In addition, the information provided is sometimes unclear so that officials spend a lot of time trying to trace people who test positive.
Some people continue to break the rules on Covid-19 prevention measures, as reflected by the fact that people in some places had organised traditional festivals or gatherings in violation of the rule on large public gatherings.
In light of these issues, the premier called for strict compliance with all government guidelines.
The premier expressed heartfelt gratitude to everyone who had had generously assisted the government in the battle against the virus outbreak.
Central authorities have received 9.5 billion kip, US$13.18 million and 4.68 million Thai baht from various entities for the purchase of Covid-19 vaccines and supplies.
In addition, friendly countries have provided equipment worth hundreds of billions of kip.
By Souksakhone Vaenkeo
(Latest Update May 7, 2021)