Feasibility study for Forestry and Eco Agriculture project gets underway
The government has given the green light to Jia Run Agricultural Development Co., Ltd. to carry out a feasibility study for an ecological agriculture development project in Sanamxay district, Attapeu province.
An agreement with regard to the project was signed on Wednesday by Deputy Minister of Planning and Investment Mrs Khamchan Vongsaenboun and company President, Mr Xiafei.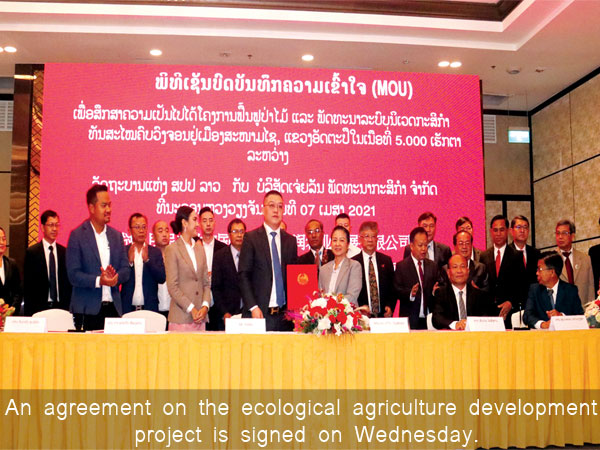 Speaking at the ceremony, Mr XieFei said the company planned to operate the project on area of 5,000 hectares, as a cooperation in modern agriculture.
Jia Run Agricultural Development Co., Ltd. will fund and operate the project. the feasibility study will complete within six months.
In the next five years the company plans to invest about 800 million yuan (1,146 billion kip) to 1 billion yuan (1,433 billion kip) in the project.
The project not only involves a huge investment, but also brings a high starting point for modernisation.
The company intends to plant industrial trees including eucalyptus and various fruit trees such as durian and jack fruit. However, the company needs to finish their feasibility study to determine which kind of plantation is suitable for this area taking into consideration the soil mixture and quality, temperature and climate suitability.
The company has an exemplary and leading role in promoting the modernisation of agriculture in Laos. After the project is fully implemented, it will provide about 50,000 to 60,000 jobs, which will not only effectively stimulate local economic development, but also play a positive role in improving the living standards of local people.
Jia Run Agricultural Development Co., Ltd. is a specialised agricultural technology company that combines scientific research, production, sales, and technical services.
The company takes "technological innovation and green environmental protection" as its purpose, and cooperates with many tropical agricultural scientific research institutes around the world.
A group of outstanding agricultural talents have rich and mature experience in the transformation of agricultural scientific and technological achievements and project operation.
We will adhere to first class standards, create a first class image, and provide satisfactory solutions for the Lao government and people.
Jia Run plans to provide free education and free medical services in Laos, by building 20 primary schools and 20 convenient clinics within five years.
This will be highly beneficial for the Lao people and promote the relationship between the Chinese and Lao peoples.
By Viengdavanh Banphahaksa
(Latest Update April 09, 2021)