Fifth Lao-Thai Friendship Bridge over 30 percent complete
Construction of the fifth Lao-Thai Friendship Bridge linking Borikhamxay province to Bueng Kan province in Thailand across the Mekong River is now 32 percent complete.
The project consists of two components: the first concerns the construction of the bridge across the Mekong River and the second relates to the construction of an access road to the bridge and the building of immigration facilities.
Project Director Mr Laythong Phommavong said construction started at the beginning of 2021.
The first component is now 32.7 percent complete, exceeding the plan by 14 percent. Drilling and installation of the remaining eight concrete piers has yet to be completed before the rainy season, with three to be built in the middle of the river and five on the ground.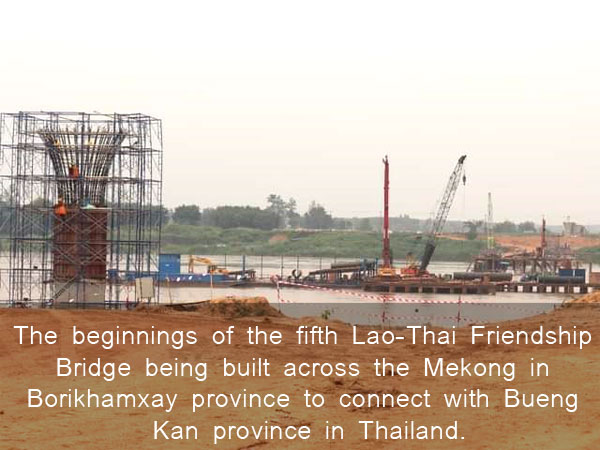 Construction has faced a number of challenges, such as the Covid-19 pandemic, early rains and other factors that cause the river level to fluctuate, Mr Laythong said.
The second project component is now 49 percent complete with regard to the construction of immigration facilities and roads, exceeding the goal by 4 percent.
Both components are expected to be complete by the end of 2023, Mr Laythong said.
It is envisaged that the bridge will become another regional trade and transit route for Laos and neighbouring countries.
In Laos, the bridge is being built in Kouy Oudom village in Pakxan district, Borikhamxay province, about 10 km north of the main town in Pakxan district and 2,860 metres from Road No. 13 South.
The project was agreed to in August 2019 with Thailand's Neighbouring Countries Economic Development Cooperation Agency (NEDA) loaning the Lao government 1.38 billion baht, with the cost to be borne by Laos and Thailand.
When the bridge is complete, it will turn Borikhamxay into a vital road link between Laos, Thailand and Vietnam over a distance of 150km. It will be the shortest connecting route between the three countries.
Construction of the 1.35km prestressed concrete bridge is estimated to take three years.
It includes a 15km-long two-lane road, mostly in Thailand, with border control facilities on both sides.
Borikhamxay serves as a transit province, not only between the north and south of Laos, but also between Vientiane and the northeastern provinces of Xieng Khuang and Huaphan.
Most people pass through Borikhamxay when travelling to Xieng Khuang province. When the bridge is complete, people in Xieng Khuang and Huaphan can also trade with neighbouring countries.
The government places great importance on the construction of roads and bridges that connect to neighbouring countries so that Laos is no longer considered to be landlocked but becomes a land bridge.
By Times Reporters
(Latest Update May 5, 2022)