Germany provides US$1.8 million for garment workers affected by pandemic

Some 17,000 garment workers in Laos will each receive emergency income support of 900,000 kip (about US$100) to mitigate the impact of the Covid-19 pandemic.
The money will help workers who lost income and support business continuity while reducing employers' staff turnover costs.
Funding support of US$1.8 million has been provided by the German Federal Ministry for Economic Cooperation and Development with technical support from the International Labour Organisation (ILO).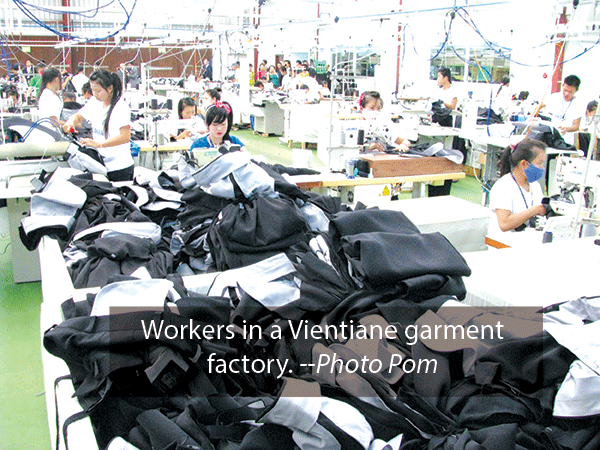 Representatives of Ngoi district and the company join villagers at the commencement ceremony of the drinking water demonstration project.
An event to launch the garment workers' income support programme in response to the effects of the Covid-19 pandemic took place in Vientiane on Tuesday.
Those present included the Deputy Minister of Labour and Social Welfare, Mr Padeumphone Sonthany; German Ambassador to Laos, Mr Jens Lütkenherm; Director of the ILO Country Office for Thailand, Cambodia and Laos, Mr Graeme Buckley; and Director General of the Lao Social Security Organisation, Ms Keo Chamthavixay.
"Twenty-seven garment businesses, who are members of the social security scheme, have requested funding support for their employees. Over 22,000 garment workers were submitted to us for assistance, of whom 17,000 qualified for the income support programme," Ms Keo said.
Eligible beneficiaries, of whom 85 percent are women, will receive cash transfers by the end of March.
"This support not only benefits workers and garment factories, it also helps strengthen the administrative capacity and payment mechanism of the social security system, as well as enhancing social dialogue and tripartite collaboration in Laos," Mr Padeumphone said.
The garment sector employs about 26,000 workers. It has been hit hard by the pandemic with many factories scaling back production, releasing staff, and in some cases closing their doors, according to a press release from the ILO.
"We are happy that this support has been channelled to the Lao Social Security Organisation. A strong social protection system that is adaptive during a crisis and responds to chronic and emerging vulnerabilities is crucial," Ambassador Lütkenherm said.
"The Lao garment industry has been hit hard by Covid-19. Income support will help workers survive this difficult period and businesses maintain their staff so they are in a better position to resume operations when the impact of the pandemic eases," Mr Buckley said.
The pandemic has greatly increased demand on Laos' unemployment insurance scheme, with the garment sector alone seeing more than a threefold increase in payments, rising from 406.58 million kip in 2019 (about US$44,000) to 1.33 billion kip (about US$143,000) during the pandemic.
Garment factories can register for emergency income support for their workers. Individuals may not register by themselves. More information can be obtained at the Lao Social Security Organisation office in Thongsangnang village, Chanthaboury district, or by calling hotline number 1508.
By Souksamai Boulom
(Latest Update February 24, 2021)