Golden Triangle SEZ asks for more workers
Golden Triangle Special Economic Zone developers in Bokeo province have asked the province's Covid-19 taskforce to ease the procedures around the importing of workers, so that operations can take place with less disruption.
Vice Chairman of the Board of Directors of the Golden Triangle Special Economic Zone, Mrs Chen Zhong, said recently that the Covid-19 outbreak has disrupted operations at the Zone for the past five months.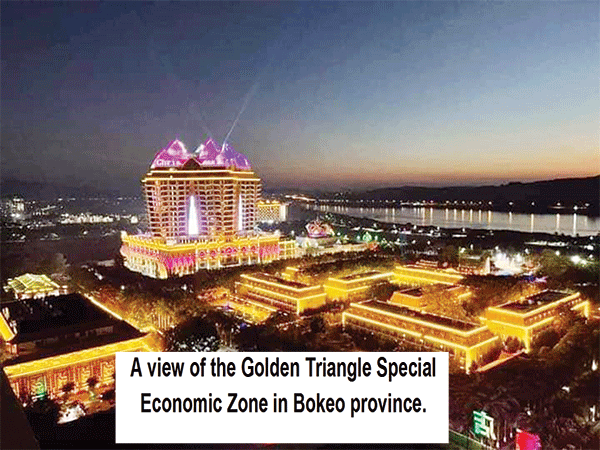 In response to the stringent measures required to address the virus outbreak as set by the government and provincial authorities, the Board of Directors has formulated a plan to help curb the Covid-19 outbreak among workers in the area.
Committees operating within the Zone have signed agreements with real estate companies and companies operating within special economic zones to take steps to prevent the spread of the virus and restrict access to unauthorised areas.
Collaboration in the management of patrols to prevent the entry of unauthorised or illegal workers has already taken place after provincial health officials identified six major areas as high-risk and re-examined each building. As a result, the number of infections in the Zone has declined.
However, a red zone has been declared and is strictly closed to the public. Out of 286 workers hired from other countries, one person has contracted Covid-19 and has been admitted to hospital.
With regard to outbreaks of the virus in nearby areas and airport construction areas, it is strictly forbidden for workers to have any contact with each other.
Mrs Chen Zhong called on the provincial leadership to consider allowing 392 people to start work in the Zone, on the condition that they quarantine for 28 days.
The Zone's Board of Directors recommended that Lao authorities coordinate with authorities in China and Myanmar to hire more workers, in particular increasing the number hired from Myanmar from 200 to 500.
Closer collaboration is needed so that workers can be sent to Laos more quickly, Mrs Chen Zhong said. The Deputy Governor of Bokeo province, Dr Khamphaya Phompanya, thanked the Zone's management for taking steps to keep workers separate and rolling out other measures to prevent the spread of infection.
He asked the Board of Directors and other authorities to ensure that all virus control measures were strictly implemented within the Zone.
The hiring of both Lao and foreign workers must be carried out in strict accordance with the regulations so that operations within the Zone can proceed as normal, he said.
Dr Khamphaya added that all authorities involved must curb the spread of rumours and false information so as not to undermine the operations of the Golden Triangle Special Economic Zone and to address Covid-related issues as soon as possible.
By Times Reporters
(Latest Update October 12, 2021)