Govt mulls pay rise for low-income civil servants, private employees
The government is studying the possibility of providing a supporting allowance for low-wage civil servants and increasing the minimum wage for private sector employees, to enable them to cope with spiralling living costs, Prime Minister Sonexay Siphandone has said.
The Ministry of Home Affairs and Ministry of Finance have been entrusted to carry out the study to determine if the state budget could afford to provide a supporting allowance for low-salary civil servants.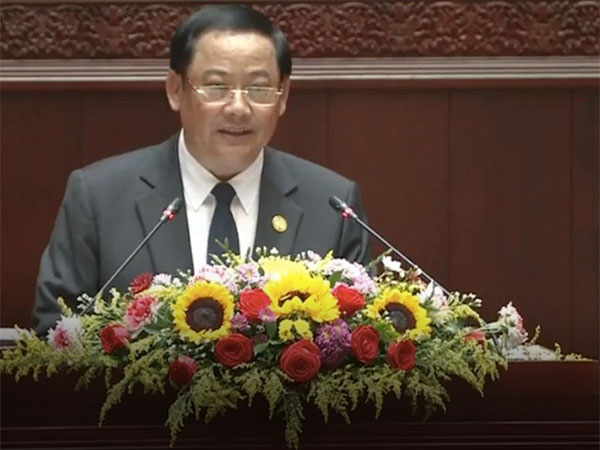 PM Sonexay Siphandone addresses the NA.
"Not all civil servants would be provided with this support. We will focus only on civil servants on low incomes," the PM told the National Assembly (NA)'s 5th Ordinary Session on July 3.
This selective focus comes as Laos is suffering from severe budgetary constraints.
In a move to push for a minimum wage increase for private employees, the government has instructed the Ministry of Labour and Social Welfare to work with the Lao National Chamber of Commerce and Industry on the matter.
Premier Sonexay was responding to questions raised by NA members as they called for a wage increase. They said the current monthly minimum wage of 1,300,000 kip agreed on several years ago was far from sufficient to cover household spending on basic needs amid skyrocketing living costs.
Over the first six months of 2023, the cost of goods and services soared by 38.06 percent, affecting household incomes and people's standard of living, Minister of Planning and Investment Mr Khamjane Vongphosy told the NA session, which ended on July 18.
Although inflation has declined from a record high of 41.3 percent in February to 28.8 percent in June, it remains high.
"The cost of goods and services is continuing to rise," Mr Khamjane told lawmakers.
Affected by the low value of the kip and high inflation, more people are leaving Laos to seek job opportunities in other countries, mainly Thailand.
Concern is growing that if these issues are left unaddressed, it will worsen the Lao labour market, which is already suffering from a worker shortage.
NA members called for the monthly minimum wage to be increased from 1,300,000 kip to 2 million kip, not only to help workers cope with hardship, but also to encourage them to fill jobs in Laos.
It was reported previously that businesses have argued against a pay rise, saying it would increase their costs and reduce their competitiveness.
In the face of current challenges, the government is well aware of the need to increase the minimum wage but has yet to make a decision regarding the precise amount and the timeframe for its rollout.
"The minimum wage of 1,300,000 kip is not enough in view of the current cost of living. It will be upgraded to keep pace with living costs," PM Sonexay told NA members.
As the government rolls out a number of measures in a bid to overcome the current challenges, the prime minister told lawmakers he is optimistic that once the situation has been addressed and is under control, fewer people will seek job opportunities in other countries.

By Souksakhone Vaenkeo
(Latest Update July 21, 2023)