Govt, Star Telecom partner in digital development

The E-Government Centre, Ministry of Technology and Communications, and Star Telecom (UNITEL) have entered into an agreement to expedite the government's use of digital technology and improve the Lao language font.
It is envisaged that the partnership will drive development in this field and enable the modernisation of services through improved e-government.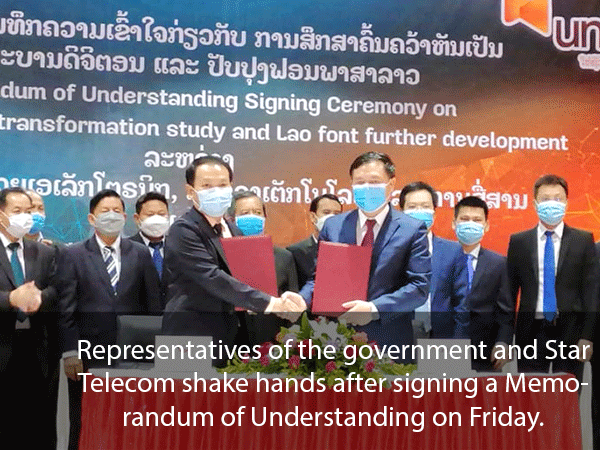 The agreement was signed by Director General of the ministry's E-Government Centre, Dr Thavisak Manotham, and Deputy General Director of Star Telecom, Mr Bounmy Malavong.
The signing was witnessed by Minister of Technology and Communications Prof. Dr Boviengkham Vongdara and the Director General of Star Telecom, Mr Luu Manh Ha.
Under the agreement, the partners will carry out research and development in software programmes for application to services used by the government, businesses, and the general public.
They will also work on the development of a digital payment and commerce platform to integrate with the government's digital system and electronic signature system (e-signature platform).
In addition, the Lao language font will be refined to enable it to be used in all operating systems, including computer and mobile phone use.
The two parties will also develop a Government Cloud Platform alongside digital payment and commerce platforms.
Speaking at the signing ceremony, Mr Bounmy said the two sides would work together to modernise public administration and services and improve the knowledge of civil servants concerning digital technology.
This would facilitate the development of Laos' digitalisation in line with the government's digital development plan.
The Deputy General Director of Star Telecom said that in the age of the Industrial Revolution 4.0, improved management and services including government and social services would play an important role in responding to the need for digital transformation.
This will further the process of digital transformation and the development of a modern state administration on a par with others in the region.
By Times Reporters
(Latest Update August 22, 2021)