Japan extends support for people with disabilities in Huaphan

Improving the quality of life of people with disabilities by providing them with equal access to education and vocational training is essential to ensure they can get jobs and earn an income.
This was the message from the Director General of the Department of Policy on Disabled People and the Elderly under the Ministry of Labour and Social Welfare, Mr Sisavath Komphon, recently.
He made the comment when signing a grant contract on the expansion of a work project for persons with disabilities in Huaphan province. Phase III of the project will run from 2022 to 2023 and is dedicated to the empowerment of disabled people in the province.
Mr Sisavath said most people with disabilities in Laos still face obstacles and difficulties in finding work, especially those living in rural areas and who do not have full access to the job market.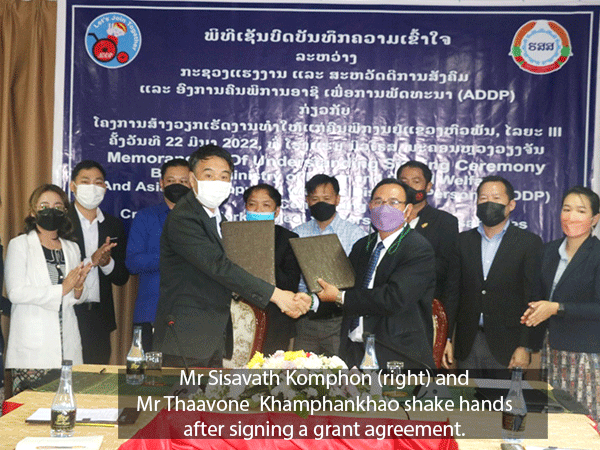 Income disparities between urban and rural areas remain large, which also affects the economic status and living conditions of people with disabilities, he added.
The grant contract was signed in Vientiane between a representative of Asian Development with Disabled Persons (ADDP), a Japanese non-profit organisation, Mr Thaavone Khamphankhao, and Mr Sisavath Komphon, witnessed by representatives of relevant ministries and Huaphan provincial authorities.
The new grant will fund the activities of the two-year project.
Phase III of the creation of work project will teach disabled people skills such as landscape gardening and vegetable growing.
It also aims to enhance the social and economic independence of persons with disabilities who have limited access to vocational training in the northern province.
Under the agreement, the two parties will implement the agreed areas of cooperation through joint participation in workshops, seminars, meetings and conferences about the progress of the project.
ADDP will provide US$97,659 to set up the work centre in Viengxay district, Huaphan province, to create more opportunities and ensure the sustainability of vocational training and skills transference.
The work centre is adjacent to the Japan-Laos Friendship Sakura Park, where cherry trees are grown.
The project began in 2019. ADDP has been active in Laos since 1997 in support of disabled people. Since 2011, the organisation has carried out projects to empower disabled people in Vientiane and Huaphan province, with funding from the Japanese government.
Through these activities, ADDP has helped to improve the quality of life of people with disabilities.
By Phetphoxay Sengpaseuth
(Latest Update March 24, 2022)