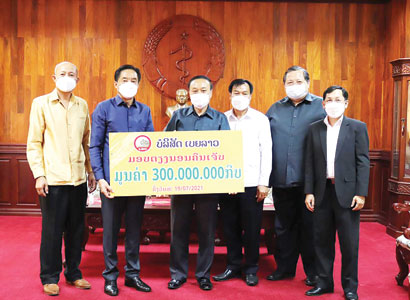 Mr Sounthone Phommachack (left) hands over the donation to Dr Bounfeng Phoummalaisith.
Lao Brewery Company's financial contribution bolsters fight against Covid-19 in southern provinces
Amid rising cases of Covid-19 infection, Lao Brewery Co., Ltd. has once again made a financial contribution to bolster the government's effort to contain the virus outbreak.
On Tuesday (July 19), the company -- a major contributing enterprise to the government's fight against Covid-19 -- handed over 300 million kip to fund activities to contain the Covid-19 outbreak in the southern provinces.
The finance was handed over through the Ministry of Health. The money will be used to purchase beds and medical equipment for quarantine centres in the southern provinces where Covid-19 cases are jumping.
President of the Lao Brewery Company (LBC), Mr Sounthone Phommachack, handed the financial donation to Minister of Health Dr Bounfeng Phoummalaisith at the ministry.
The financial support for the southern provinces comes after the provinces have recorded a number of new Covid-19 cases daily, most of which are imported.
Authorities said that although community outbreaks in Laos appear to have slowed in recent days, many new imported cases have been recorded daily, including in the southern provinces, as many Lao workers in a neighbouring country are heading home because of a severe outbreak of the virus there. The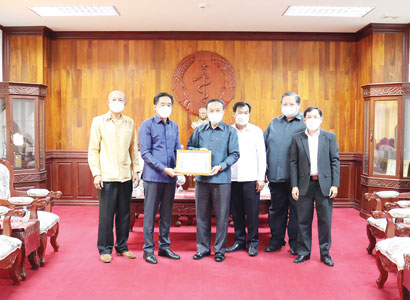 Dr Bounfeng Phoummalaisith (right) presents a certificate of praise to Mr Sounthone Phommachack in recognition of the financial contribution made by Lao Brewery Co., Ltd.
southern province of Champassak and the central provinces of Savannakhet and Khammuan have seen daily cases surge.
Some returnees have tested positive for the highly-transmissible Delta variant of the virus, according to the Deputy Director of the Communicable Disease Control Department, Ministry of Health, Dr Sisavath Soutthanilaxay.
To accommodate the incomers, 48 quarantine centres have been set up and are operational across the country with 6,044 people currently being quarantined, according to the National Taskforce for Covid-19 Prevention and Control.
In light of the need for beds and equipment at these facilities, the Lao Brewery Co., Ltd. has made a generous contribution to support the effort to fight the outbreak.
It is the latest support extended by the company, which has previously made contributions amounting to 2.5 billion kip.
Authorities said the support and assistance extended by the company has been an important contribution to the fight to contain the virus, including the most recent outbreak.
As of July 20, some 3,710 people were confirmed to have contracted Covid-19 and five people have died, according to the taskforce. As many as 1,222 people are being treated and under observation in hospitals.
By Advertorial Desk
(Latest Update July 22, 2021)