Lao government seeks way out of fuel crisis
The fuel crisis across Laos since Monday has led to motorists in the national capital and the provinces queuing for hours in the hope of filling the tanks of their vehicles before petrol pumps run dry.
This continues to be a common sight in the country, though the authorities have taken several steps to resolve the crisis.
Long queues stretching out into major roads were witnessed in several cities in recent days, as motorists drove from one pump to another to fill up their tanks.
The depreciation of the local currency has resulted in importers being unable to purchase adequate amounts of fuel.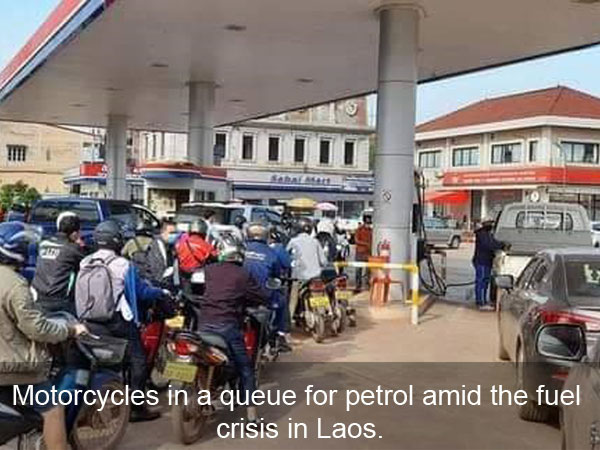 Provinces across Laos have witnessed shortages for weeks, and early warning signs came from Luang Namtha, which ran out of fuel in late March. The situation worsened in Pakxe city and Savannakhet province, before the problem finally hit Vientiane.
People posted on Facebook that the Lao government needs to seek short-term and long-term solutions to the fuel crisis, including ways to access foreign currency desperately needed to bail out fuel importers.
They said authorities must come up with new strategies for the future that are in line with the current socio-economic situation.
The authorities said Laos does not yet have oil reserves or a fuel reserve fund, and that importers should not have to rely on the central bank, commercial banks and currency traders to access foreign currency in future.
"Yesterday, I spent more than an hour outside a petrol station waiting to fill up my vehicle's tank," one resident said in a post about the issue on Facebook.
Some residents said that after being restricted within the country for more than two years because of the pandemic, they will now consider a trip to neighbouring countries to fill up their petrol tanks.
"Laos will probably take about the same amount of time to have fuel enter into the country. Today, I'm going to Thailand to take my family there for a change of scenery and to get some petrol," one citizen wrote on social media.
The government of Laos has held emergency meetings in recent days to find solutions to the fuel crisis.
The President of the Lao Fuel and Gas Association, Mr Sysangkhom Khotnhotha, said importers are struggling to buy sufficient fuel to meet the country's needs. He said the association has called on all the concerned parties to help resolve the fuel crisis.
By Phetphoxay Sengpaseuth
(Latest Update May 13, 2022)