Laos, Russia agree to cement ties, broaden cooperation
Lao and Russian foreign ministers have agreed that both sides will work together to cement ties and broaden cooperation between their two countries.
Mr Saleumxay Kommasith and his Russian counterpart Sergey Lavrov reached the agreement during talks in Vientiane on Wednesday.
The Russian minister paid a working visit to Laos on July 6-7.
The ministers pledged to enhance cooperation in various fields including economics, trade, investment, energy, education, tourism, military affairs, and science and technology.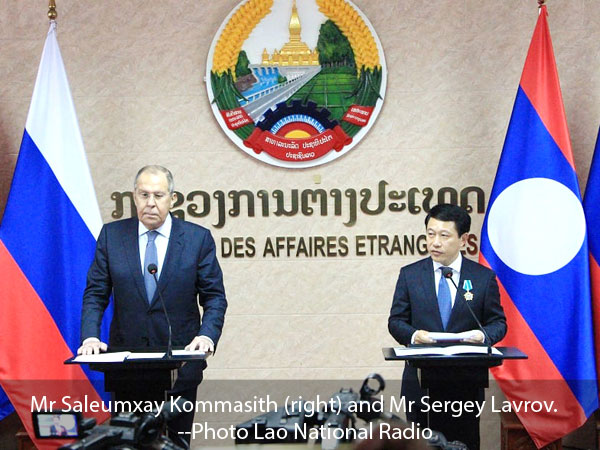 Mr Saleumxay, on behalf of the Lao government, expressed heartfelt gratitude for the invaluable assistance the Russian government and people have extended to Laos over past years. In particular, this related to human resource development, military equipment, humanitarian aid, medical equipment for Covid-19 testing, and provision of the Covid-19 vaccine Sputnik V.
The two sides reviewed and highly valued the time-honoured friendly relations and cooperation between Laos and Russia through bilateral and multilateral frameworks. The ministers noted that relations and cooperation have been further enhanced and broadened. Both sides enjoyed mutual understanding and support.
Laos and Russia this year mark the 10th anniversary of the Asia-Pacific security strategic partnership.
The two ministers said they highly valued cooperation within the Asean-Russia framework, which this year sees the 30th anniversary of Asean-Russia relations and the 25th anniversary of Asean-Russia dialogue partnership.
Russia has engaged in cooperation with Asean in various fields including politics and security, economics, socio-cultural affairs, transnational crime, trade and investment, energy, and natural disasters. In addition, the two sides have extended mutual support in resolving regional issues and challenges.
Following the talks, the two parties signed a cooperation agreement between their two ministries.
On the same occasion, Mr Lavrov awarded a Friendship Medal to Mr Saleumxay in recognition of his contribution to enhancing the traditional friendly relations and cooperation between Laos and Russia.
Mr Lavrov also called on President Thongloun Sisoulith and Prime Minister Phankham Viphavanh.
By Times Reporters
(Latest Update July 8, 2021)