Laos confirms daily new Covid-19 case record
Laos on Thursday confirmed 256 new cases of Covid-19 found over the past 24 hours, setting a daily record high.
The previous record was 170 cases, which were identified on Tuesday (July 20). Of the 256 new cases, 254 were imported and found among migrant workers returning to Laos from neighbouring countries.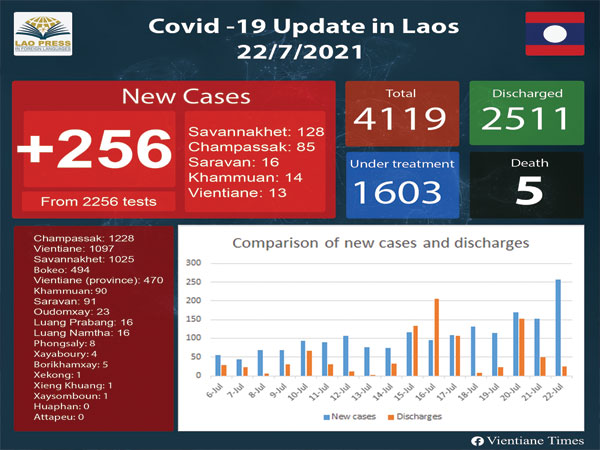 Two more people contracted the virus in Champassak province after coming into contact with other infected people, the National Taskforce for Covid-19 Prevention and Control told the daily press briefing on Thursday.
The 254 new imported cases comprise 128 recorded in Savannakhet the highest among the provinces. Champassak recorded 83 cases, Saravan 16, Khammuan 14, and the capital Vientiane confirmed 13 cases.
The new infections were found among 2,256 samples tested on July 21, Deputy Director General of the Department of Communicable Disease Control, Dr Phonepaseuth Xayamoungkhoun, told reporters. The new record brings the total number of cases to 4,119 including five people who have died, while 1,603 people are in hospital. The taskforce said community-transmitted infections in Laos appeared to be on the decline, but the country is registered an increasing number of imported cases as migrant workers flock home from neighbouring countries.
Most migrant workers were reported to be returning from Thailand, which is experiencing a severe and widespread outbreak of Covid-19. Thai media reported that the country's hospitals have been overwhelmed by Covid-19 patients.
Lao authorities are working harder to enforce Covid-19 prevention measures at border crossings in order to screen everyone entering Laos and prevent them spreading the virus within local communities.
On July 21, a total of 2,928 people entered Laos including 2,078 came from Thailand, 787 from Vietnam and nine from China.
To keep the virus in check, 56 quarantine centres have been set up and are operational across the country to accommodate people entering Laos. Incomers are tested for Covid-19. Some 7,905 people are currently in quarantine at these centres.
Worldwide, more than 192 million people have reportedly contracted Covid-19, of whom at least 4 million have died. More than 175 million people have been discharged from hospitals.
By Souksakhone Vaenkeo
(Latest Update July 23, 2021)