Laos, Vietnam vow to deepen ties, special solidarity

President Thongloun Sisoulith has pledged to work closely with Vietnam's newly-elected State President Nguyen Xuan Phuc to raise cooperative relations and special solidarity between the two countries to a higher level.
Mr Thongloun held a telephone conversation with his Vietnamese counterpart on Monday following his election as the new State President by Vietnam's National Assembly.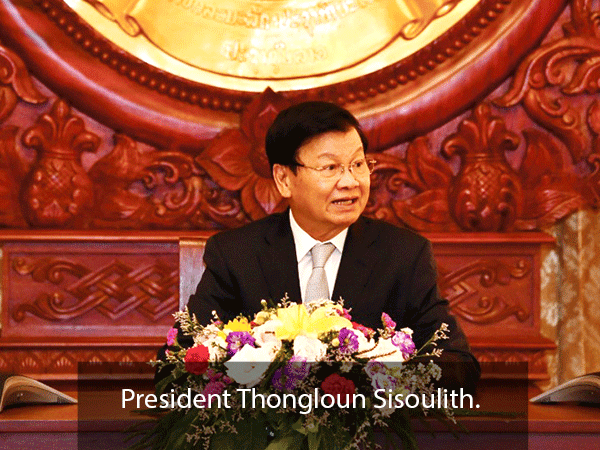 The Lao president congratulated Mr Phuc on his election as the new State President, saying he believed that under his leadership Vietnam would further develop substantially, which would enhance the role and reputation of Vietnam in the regional and international arenas.
Mr Thongloun also said he believed that under the leadership of his Vietnamese counterpart the cooperative relations, friendship and special solidarity between Laos and Vietnam would continue to deepen and be fruitful.
The two presidents said they highly valued their past cooperation which had enabled the implementation of various agreements signed by the two nation's top leaders, according to Laos' Ministry of Foreign Affairs.
The leaders also said they were satisfied with the implementation of agreements reached at the 43rd session of the Laos-Vietnam Inter-Governmental Committee late last year.
Mr Thongloun thanked the Vietnamese president for Vietnam's support to Laos in past years, particularly Vietnam's assistance with recovery from disasters.
Vietnam was among the first countries to help Laos respond to the Covid- 19 pandemic amid the global health crisis and economic slowdown.
The Vietnamese government also funded the construction of the new Lao National Assembly building at a cost of US$100 million (about 831 billion kip).
Situated on the That Luang esplanade in Vientiane, the stately building was used for the inaugural session of the Assembly's newly-elected 9th legislature last month.
During their telephone talks, the two leaders discussed their future cooperation, agreeing to further push for exchange visits by high-level delegations as well as continuing to monitor and push for the implementation of agreements signed by top leaders of the two countries.
The two presidents agreed to mark Laos-Vietnam Solidarity and Friendship Year 2022 and celebrate the 60th anniversary of diplomatic relations and the 45th anniversary of the signing of the Laos-Vietnam Treaty of Friendship and Cooperation.
These events will enable younger generations to better understand the relations, special solidarity and mutual assistance between Laos and Vietnam in the regional and international arenas.
President Thongloun invited the Vietnamese president and his wife to visit Laos at an appropriate date.
Vietnam is the third largest foreign investor in Laos after China and Thailand. As of December 2020, Vietnam's total investment in Laos stood at US$4.1 billion.
Vietnam is also a key trading partner of Laos, with the value of bilateral trade recorded at US$815 million in the last 10 months of 2020.
By Times Reporters
(Latest Update April 07, 2021)