Laos to get 1.4 million doses of Covid vaccine in coming weeks

China and the United Kingdom will provide Laos with more than 1.4 million doses of Covid-19 vaccines in coming week or werks, the National Taskforce for Covid-19 Prevention and Control said on Tuesday.
The government of China will provide one million doses of its Sinopharm vaccine next week, while the UK government will provide 415,000 doses of AstraZeneca vaccine in the next few weeks, Director General of the Department of Hygiene and Health Promotion, Dr Phonepaseuth Ounaphome, told the daily press briefing.
"In August, we will receive more than 1.4 million doses to vaccinate people," he said.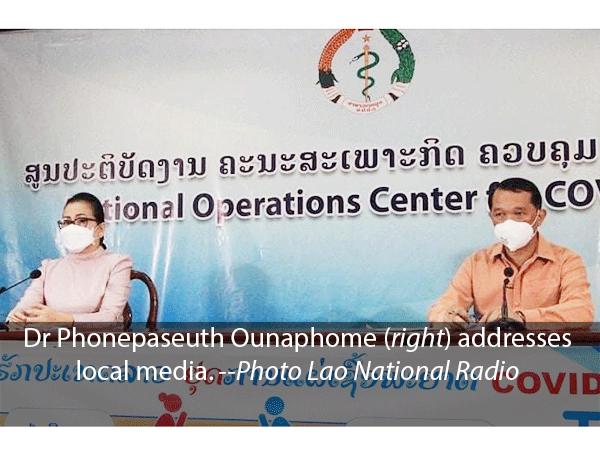 The planned delivery of more vaccine will bolster the government's vaccination programme, which has set a target to inoculate 50 percent of the population by the end of this year.
"If we can immunise 50 percent of people, then we will be able to curb community outbreaks of Covid-19," Dr Phonepaseuth said.
As of July 27, some 1,070,856 people had received a first dose of a Covid-19 vaccine, accounting for 14.59 percent of the population. A total of 842,911 people have had two doses, accounting for 11.48 percent of the population.
Vaccinations have been rolled out in target areas according to three criteria – outbreak areas, at-risk areas such as provinces bordering on virus outbreak countries, and the population size of a province.
To date, more vaccinations have been administered in Vientiane and the northern province of Bokeo, where community outbreaks have been reported. The taskforce has focused on immunising people in communities where outbreaks have occurred, according to the director general.
He informed members of the public that health officials across the country will begin rolling out the Johnson & Johnson vaccine on August 2.
Some 1,008,000 doses of Johnson & Johnson vaccine have been donated by the government of the United States through the COVAX Facility - a partnership co-led by the Coalition for Epidemic Preparedness Innovations (CEPI), Gavi, the Vaccine Alliance, and the World Health Organisation (WHO), with UNICEF as the key delivery partner which aims to ensure equitable access to Covid-19 vaccines.
"The (Johnson & Johnson) vaccines have been distributed to provinces across the country," Dr Phonepaseuth said.
Given that the Johnson & Johnson vaccine requires only one dose to be fully effective, once all doses have been administered, about 29 percent of people in Laos will be immunised.
Priority groups for the vaccine are elderly people, frontline officials and people in quarantine centres.
Thousands of people mostly migrant workers returning from neighbouring countries are being quarantined.
Many returnees, most of them coming from Thailand which is experiencing a severe outbreak of Covid-19, have tested positive for the virus.
Most entered Laos at Champassak and Savannakhet provinces, overwhelming local health facilities and prompting the government to send medical staff, medicines and equipment to help.
To ensure that people do not spread the virus even after completing their 14-day stay at a quarantine centre, Dr Phonepaseuth said they should be vaccinated before being allowed to return to their local community.
The director general called for members of the public to register for vaccinations, including through online applications, and to stick to the scheduled time to prevent long queues and over crowding at vaccination centres, as has happened in the past.
By Souksakhone Vaenkeo
(Latest Update July 28, 2021)