Latest shipment of Chinese Covid vaccine arrives
About 1.9 million doses of the Sinopharm Covid-19 vaccine donated by China arrived at Wattay International Airport in Vientiane on Wednesday on a Chinese YTO Airlines cargo plane.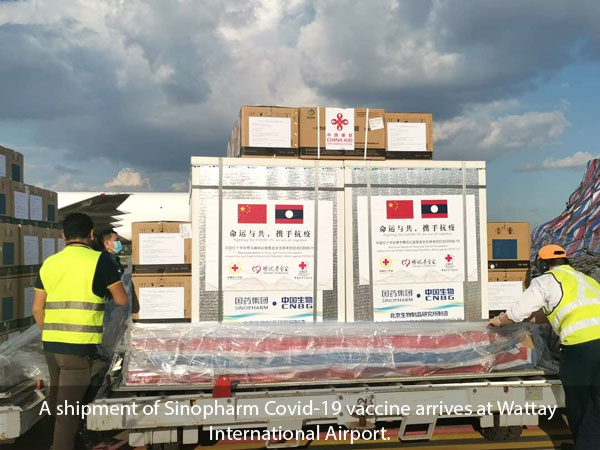 The vaccine will primarily be given to people at high risk of Covid infection and who have not yet had two vaccinations.
Priority groups include children aged 12 and over, pregnant women, and essential workers such as schoolteachers and others across the country, as recommended in the National Deployment and Vaccination Plan.
Health authorities are expediting the vaccination programme as the government strives to bring the virus outbreak under control.
Prime Minister Phankham Viphavanh, a representative of the Chinese Embassy to Laos and senior ministry officials went to the airport to receive the vaccine.
Mr Phankham said the new shipment will bring Laos closer to meeting the target to vaccinate 50 percent of the adult population by the end of this year. By the end of next year it is hoped that 70 percent of the population will be inoculated, with more people to be vaccinated in the following years.
The prime minister expressed his gratitude to China and the Chinese people for assisting Laos in its fight against the coronavirus.
This assistance is critical for the Lao government, as well as the Lao people, and motivates them to combat the virus, he said.
A senior official from the Ministry of Health, who asked not to be named, said the vaccine will be used by the government to bolster ongoing efforts to immunise the Lao population against Covid-19.
Vaccines are the most important tool in the fight against the virus, he said. As the outbreak in Laos spreads, the government is sourcing assistance from various sectors and friendly countries to supplement its own resources.
Laos has received six types of Covid-19 vaccine, including the Sinopharm, AstraZeneca, Johnson & Johnson, Pfizer, Sinovac and Sputnik vaccines.
Meanwhile, reinforced measures are being imposed across the country to keep the virus in check.
China has provided several batches of vaccines to Laos and dispatched medical specialists and supplies to support the government's efforts to contain the virus outbreak.
By Phetphoxay Sengpaseuth
(Latest Update November 18, 2021)