Lockdown extended until May 20
The government has extended the lockdown for another 15 days until May 20 in an ongoing effort to contain the Covid-19 outbreak as new cases continue to surge.
The National Taskforce for Covid-19 Prevention and Control announced to continue imposing the measures in a press conference on Tuesday.
The government has imposed a lockdown in the capital of Vientiane since April 22 after suspected super-spreaders had caused a widespread outbreak. All 17 provinces have imposed lockdowns at later dates.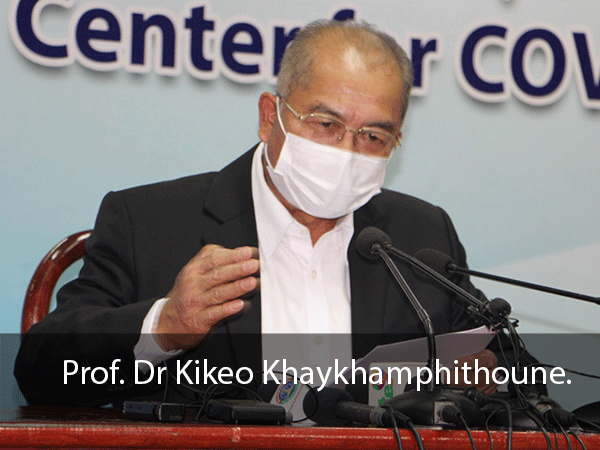 The suspected super spreaders involved two Thai men who crossed the border illegally and travelled around the central provinces and the capital together with their two Lao female friends, who have tested positive.
Most daily surge since then was linked to the 59th case, one of the two Lao females.
Announcing to extend the lockdown at the Tuesday press conference, Chairman of the National Taskforce for Covid-19 Prevention and Control Prof. Dr Kikeo Khaykhamphithoune said the outbreak situation has not declined.
Dr Kikeo, who is also Deputy Prime Minister, said his taskforce would follow up and assess the situation closely and revise measures accordingly and timely.
Total cases rose to 1,026 as of May 4 including 60 new cases recorded on the same day some 60 patients were discharged. There has been no reported deaths.
Dr Kikeo called for all sectors to strictly observe Covid-19 prevention and control measures in order to contain the outbreak.
As daily cases surge, authorities are setting up makeshift hospitals to provide sufficient treatment facilities for the patients.
The government has also mobilised assistance from various sectors in the society, friendly countries and international organisaitons to stimulate the government's effort to cope with the outbreak.
On May 4, teams of medical experts and equipment from neighbouring Vietnam and China arrived in Vientiane to help Laos fighting the pandemic.
As of May 4, Laos has received assistance from various sectors in the society and friendly countries amounting to more than 5 billion kip, US$12.6 million and 4.58 million Thai baht.
Dr Kikeo expressed heartfelt appreciation and gratitude to those extending the assistance.
By Souksakhone Vaenkeo
(Latest Update May 5, 2021)