Luang Prabang bans traditional Lao New Year events

Luang Prabang authorities have decided to scale down the Lao New Year (Pi Mai Lao) celebrations, which normally take place from April 14-16, because of the ongoing Covid-19 outbreak.
This means that the customary processions will not be held and street parties will not be allowed, to prevent large crowds gathering.
Lao New Year is the main event on Luang Prabang's calendar because of the many colourful events that normally take place, attracting large numbers of visitors and filling the streets with revellers.
Director of Luang Prabang province's Information, Culture and Tourism Department, Dr Soudaphone Khomthavong, told Vientiane Times on Friday that this year the Miss Lao New Year and elephant processions will not take place, while the traditional street fair will also not be organised.
People will not be allowed to gather in the street to throw water and must not gather in large numbers, but may hold small-scale events in their homes to celebrate the occasion.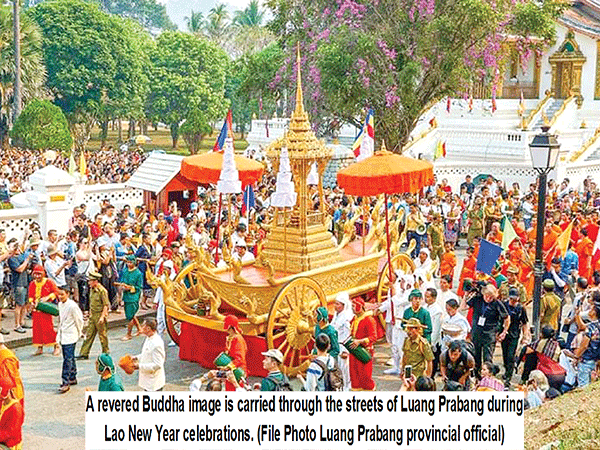 Celebrants will be allowed to pour water on the Prabang Buddha statue, which is highly revered, and may also pour water on other Buddha images at temples, but must observe the rules on social distancing and mask wearing, Dr Soudaphone said.
Although the Pi Mai Lao festival will be downsized this year, provincial authorities are building more tourist-related facilities and improving services and safety measures at hotels, guesthouses and restaurants in anticipation of more visitors under the Lao Thaio Laos scheme.
Other provinces including Xayaboury have also banned public Lao New Year celebrations and advised people to hold only small events in their homes to curb the spread of Covid-19.
Meanwhile, the government has banned state departments from holding events to celebrate the new year, to encourage frugal practices amid the rising cost of living and general financial constraints.
The government also announced that Wednesday April 13 will be given as a holiday in compensation for April 16, which is a Saturday, and is traditionally the last day of the three-day Lao New Year holiday.
The annual Pi Mai Lao festival is observed for three days from April 14-16 every year. The addition of Wednesday as a public holiday means that everyone will get a longer holiday, from Wednesday to Sunday.
In addition, given the recent spread of Omicron, several ministries have told their staff to work from home and to take turns to work in their offices when necessary, to reduce the spread of infection in government offices.
By Times Reporters
(Latest Update March 28, 2022)