MRC, GIZ ink agreement to boost transboundary water cooperation
The Mekong River Commission (MRC) and the German development agency GIZ have signed an agreement to implement the second phase of the Transboundary Water Cooperation Programme in the Lower Mekong Basin.
The new agreement, signed on January 17, follows funding commitments made in November by the German Federal Ministry for Economic Cooperation and Development, which granted the Mekong River Commission an additional 4.45 million euros over the next three years.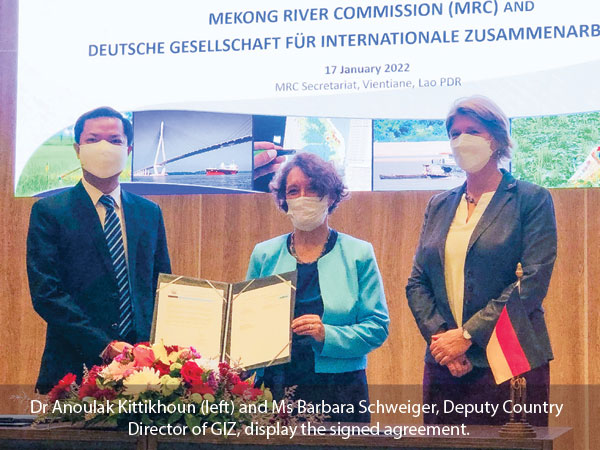 The programme will enhance the Commission's ability to monitor and address challenges in the Lower Mekong Basin, including threats posed by climate change, especially flooding and drought.
Speaking at the signing ceremony, Chief Executive Officer of the MRC Secretariat, Dr Anoulak Kittikhoun, said the agreement would put into effect activities that would boost the capacity of the Mekong River Commission and the national Mekong committees.
"Germany's support will pave the way for us to further advance our ability to monitor the state of the Mekong River, effectively collect data and conduct analysis for better informed decisions, and proactively protect the future of the many lives that depend on the Basin," he said.
According to a recent MRC report, the Lower Mekong Basin has witnessed record low flows for the third consecutive year, with river levels dropping to their lowest points in more than 60 years, due to highly reduced rainfall and worsening climate conditions.
The report also noted that while reverse flows into the Tonle Sap in 2019 were close to average, those in 2020 and 2021 were the lowest on record.
Head of Development Cooperation at the German Embassy to Laos, Dr Christina Seeberg-Elverfeldt, said the second phase would strengthen joint planning and Basin management with a view to boosting climate resilience in the shared sub-basin between Cambodia and Thailand and other countries.
"The project aims to further build the capacity of MRC staff and relevant regional line agencies working on the MRC Core River Monitoring Network for informed decisions over the development and management of water resources, enabling the MRC to manage flood and drought risks in the Lower Mekong Basin more effectively," she said.
The first phase of the Transboundary Water Cooperation agreement was instrumental in deepening cooperation between and among the MRC member countries of Cambodia, Laos, Thailand and Vietnam.
In addition to the joint monitoring of mainstream dams at the regional level, the project supported bilateral cooperation, while the Regional Steering Committees of Cambodia and Thailand approved a five-year Master Plan on Transboundary Flood and Drought Management in the Tonle Sap sub-basin and a respective Basin Atlas.
Germany is a long-standing contributor to the Mekong River Commission dating back to the establishment of the Commission in 1995 and has provided more than 67 million euros in technical and financial support.
By Times Reporters
(Latest Update January 21, 2022)