Mekong embankment collapses, farmlands flooded
A section of the embankment on the Mekhong river collapsed in Vientiane, flooding farmlands in low-lying areas though there were no reports of the incident posing a threat to people's lives.
This section of the embankment is located at Ban Hom village in Hadxaifong district, and it collapsed after the water level rose soon after midnight on Thursday.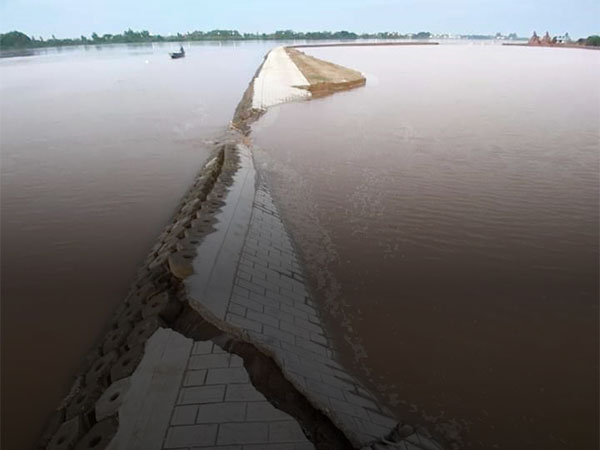 A section of the embankment on the Mekhong River collapsed at Ban Hom village in Hadxaifong district.
The collapse occurred between 1 am and 2 am on August 10 following several spells of light and heavy rains across the country.
The Governor of Hadxaifong district, Mr Bounpheng Sinavongphone, said the collapse of the embankment in Ban Hom did not have a major impact on agricultural production at the district or provincial level or the local people's lives.
The water overflowed and slowly flooded farmlands in low-lying areas after the collapse. "We visited the area to collect information about the damage, and will announce this as soon as possible," Mr Bounpheng said.
After the water recedes, the concerned sectors will carry out repairs of the embankment so that conditions can return to normal.
The authorities are keeping a close eye on the Mekong river and its tributaries since water levels are expected to rise over the next few days.
People living along the river's bank have been warned to stay alert and to prepare to move, if necessary.
Local residents said some households had been moving their property to higher ground and safer places.
According to the Meteorology and Hydrology Department, the Mekong river is close to the danger level at some places after several days of rain. The level of the Mekong river at the Km 4 point in Vientiane was recorded at 11.82 metres on August 10.
The level of water is forecast to be at 11.78 metres on August 11 and 11.51 metres on August 12.
This is above the warning level of 11.50 metres, and close to the danger level of 12.50 metres.
The Meteorology and Hydrology Department said rain is forecast for the northern, southern and central areas of Laos during August 9-15, and this is expected to increase the levels of the Mekong and its main tributaries.
The department advised its officials to pay close attention to their work and issue flood warnings when necessary, so that people in at-risk areas can be prepared and the effects of flooding mitigated.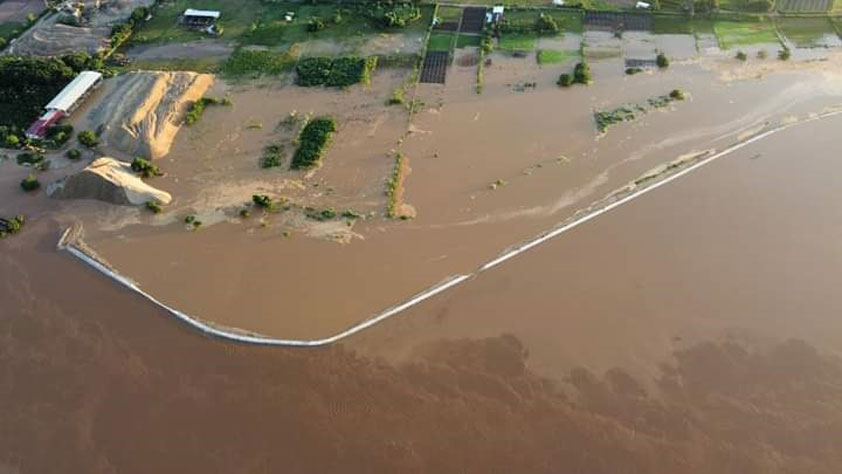 The water overflowed the embankment and flooded farmlands at Bam Hom village in Hadxaifong district.

By Keoviengkhone Bounviseth
(Latest Update August 11, 2023)