Ministry, tour operators request full reopening for foreign tourists starting May 1
State authorities and tourism operators have asked the government to reopen the country to the citizens of all countries starting on May 1.
The proposal was made following a meeting between the Ministry of Information, Culture and Tourism and tour operators.
The meeting recommended that tourists must have been fully vaccinated at least 14 days before travel, or have a certificate showing they had contracted Covid earlier. Children under the age of 18 would not be required to have a vaccination certificate.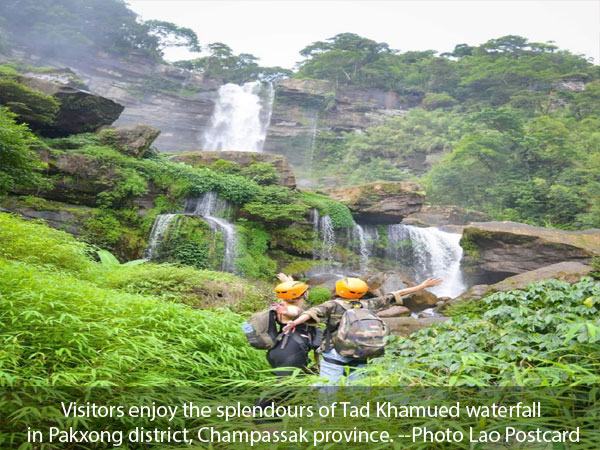 Visitors with a vaccination certificate and children under the age of five would not need to have a RT-CPR test before travelling to Laos, but those without a certificate must take a RT-CPR test less than 72 hours before arriving in Laos.
Upon arrival, all visitors must have a RT-PCR and RTK test. If the results are negative, they will be free to travel within the country.
Day trippers entering Laos from neighbouring countries must provide a vaccination certificate and have an RDT/ATK test. Those who do not have a vaccination certificate must prove they had a negative RT-PCR test result, with the test to be taken less than 48 hours before arriving in Laos.
Visas on arrival will be available at border crossings, as well as e-visas which can be obtained online.
Tourists must also buy an insurance policy that covers them for Covid-19 up to a value of US$10,000. The policy may be purchased either in Laos or another country.
Visitors who made travel arrangements with a tour company must have an RDT/ATK test upon arrival and stay in a designated hotel until they get the result. Independent travellers must also be tested but may wait at other locations and get the result an hour later.
If the result is negative, no quarantine will be required and visitors are free to travel, but if the result is positive visitors must wait until they test negative before being allowed to go ahead with their travel plans.
Foreign nationals who have not been fully vaccinated but have a negative RDT/ATK test result will be required to quarantine for seven days.
Visitors will be free to travel to any location in Laos but must comply with the standard Covid rules such as wearing a facemask, using hand sanitiser, and social distancing.
Many countries in the region and beyond have fully reopened their borders to visitors to revive their economies, despite surging Covid rates caused by the Omicron variant.
However, this variant is considered to be less of a public health threat as it produces milder symptoms, while increasing numbers of people have been vaccinated against the virus, boosting governments' confidence in the safety of renewed travel.
By Times Reporters
(Latest Update April 29, 2022)