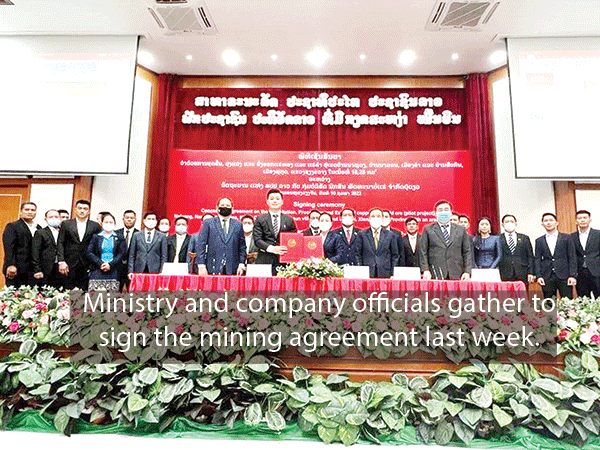 Ministry gives green light to gold mining operation

The government has authorised a local company to mine gold ore on a 18.28 square-kilometre site over a period of 20 years.
An agreement on the project was signed by Deputy Minister of Planning and Investment Mrs Khamchan Vongsenboun and the company. The company will invest about US$46 million in the mining operation and build an international standard factory on the site.
The venture is seen as a contribution to economic growth and will provide revenue for the government while also creating job opportunities for local people. The company has paid US$2 million to the government as an advance fee for the project and provided 24 billion kip for the construction of a 48km road linking Kham district in Xieng Khuang province to Hiem district in Huaphan province.
In another venture, the Ministry of Planning and Investment recently signed an agreement with the CTC Development Group and Vu Thu Construction Joint Stock Company to carry out a feasibility study for the construction of a 220kV transmission line.
The ministry also signed an agreement with the Lao People's Revolutionary Youth Union last month on a scheme to provide vocational training in Special Economic Zones for disadvantaged young people.
In addition, the ministry and Thakhaek Dry Port Company Limited recently signed a 30-year concession agreement on the Thakhaek dry port in Khammuan province.
By Times Reporters
(Latest Update February 15, 2022)