More funding for biodiversity, environmental protection
The Environmental Protection Fund (EPF) will provide over 7.9 billion kip to strengthen biodiversity conservation and natural resource management activities in six target provinces.
The 11 subprojects will take place in the provinces of Vientiane, Xayaboury, Huaphan, Luang Namtha and Attapeu, and in Vientiane, all of which have ample natural resources and capacity for environmental protection.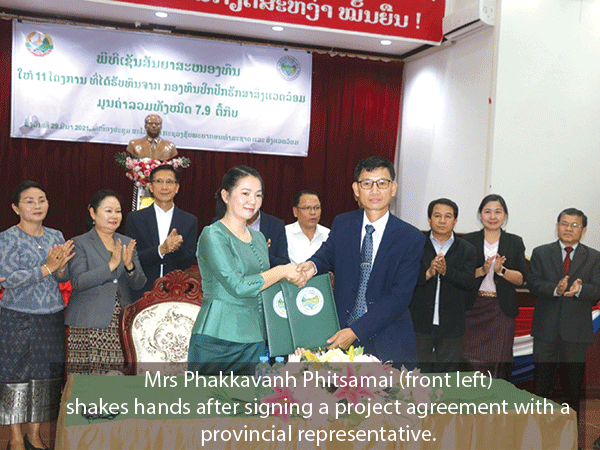 The initiative will also focus on social impact management at historic tourist sites. The projects will run for three years from 2021-2023, focusing on protected areas and enhanced protection measures to preserve forested areas.
They also aim to strengthen biodiversity conservation in district protected area management and provide support for communities in sustainable environmental management activities.
Deputy Minister of Natural Resources and Environment, Dr Saynakhone Inthavong, and a World Bank representative presided over the project signing ceremony yesterday. The agreement was signed in Vientiane by the Acting President of the Environmental Protection Fund,Mrs Phakkavanh Phitsamai, and officials from provincial agriculture and forestry departments who are EPF's responsibility in the targeted regions.
Speaking at the signing ceremony, Dr Saynakhone said the projects would ensure the proper dissemination of information about the harmful impacts of waste in towns and about social impact management relating to project activities and operations among local people.
The projects aim to improve and promote environmental protection by providing relevant data and information, raising public awareness, and providing education to citizens so that they recognise the importance of the environment in their daily lives.
The initiative will also include public awareness raising about environmental protection at tourist attractions in Viengxay district, Huaphan province.
The projects support the government's policy on improved environmental management.
The Environment Protection Fund provides funding to manage land, protect natural resources, preserve wildlife habitats, make critical capital improvements about conservation, and provide access to local people.
Dr Saynakhone said the projects will also provide information on the administration and protection of the natural environment to environmental experts.
They will also examine the relationships between 'developed' and 'developing' societies, the roles played by various institutions within them, and their effects on the processes of social, political, economic, and environmental transformation.
The Environment Protection Fund was established in 2005 as a financially autonomous organisation to strengthen environmental protection, sustainable natural resource management, biodiversity conservation, and community development in Laos.
By Phetphoxay Sengpaseuth
(Latest Update March 30, 2021)