More flooding, landslides likely in Khammuan, Savannakhet​
People who live along the Xechamphone River in Savannakhet province and those who live in valleys in Khammuan province should be on the alert for landslides and flooding caused by heavy rain in the next one or two days, the Meteorology and Hydrology Department ​has​ warned.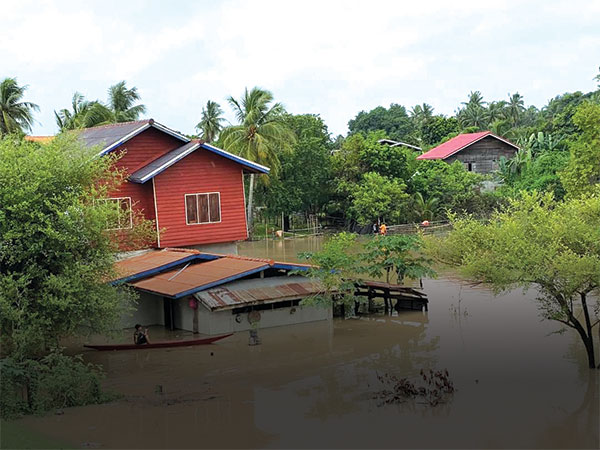 This house in Savannakhet province was partially submerged by floodwater on July 31. --Photo Pathetlao Daily
Rain has been falling steadily in recent days inundating hundreds hectares of farmland and affecting thousands of families in central Savannnakhet province.
The rain will continue to fall in the central and southern provinces, causing rivers to further rise and overflow.
The water level at the Kaeng Kok measuring station on the Xechamphon River​ in Champhon​ district, Savannakhet​ province, is close to the danger level, while the river level measured at the Dong Hen station is already at the danger level.
Meanwhile, the levels of the Pakan and Hinboun rivers in Khammuan province and the Xedon River in Champassak province are also at the danger level.
Deputy Director of the Savannakhet​ provincial​ Information, Culture and Tourism​ Department, Mr Saisamone Sidavong, told Vientiane Times on Wednesday that many villages in Atsaphon and Phalanxay districts have been affected by flooding, as well as 200 hectares of farmland in seven villages of Xayphouthong district.
In Atsaphon district, more than 5,100 households in 28 villages are suffering from the effects of flooding.
In addition, 95 fishponds and 20 hectares of farmland in the district have been affected.
"Provincial authorities are preparing to assist affected households and respond to the situation, but fortunately there have been no reports of injury or death," Mr Saisamone said.
Members of the public are strongly advised to keep track of weather forecasts and water levels issued by the Meteorology and Hydrology Department so they can prepare for an emergency if necessary.

By Times Reporters
(Latest Update August 3, 2023)