Over US$8.8m to be spent on infrastructure upgrade in Vangvieng
More than US$8.8 million is being spent to improve infrastructure, including construction of a road leading to Kaeng Nyui waterfall in the tourist hotspot of Vangvieng in Vientiane province.
The upgrade is being funded by the Asian Development Bank and will also include the construction of the Nam Xong Bridge and a road on the west side of the Nam Xong river.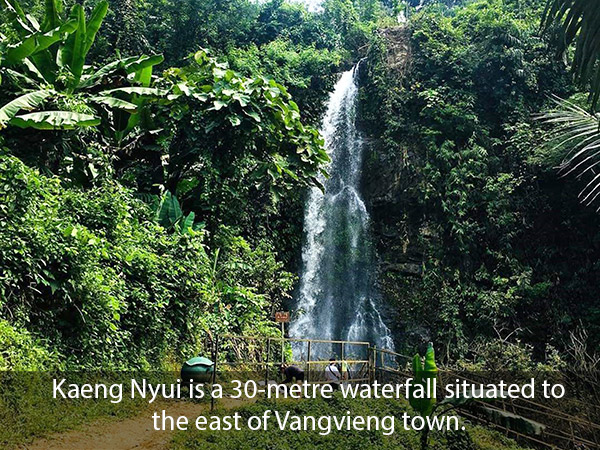 Vangvieng district Governor Mr Bounchan Malavong said construction of the road to Kaeng Nyui waterfall will begin soon and will take 24 months to complete.
A contract for the work was signed on July 23 by the Ministry of Information, Culture and Tourism and Xaya Construction and Repair Co., Ltd.
Head of the Road Construction Project and Tourism Facility, Mr Soun Manivong, addressed a meeting on September 3 to discuss pre-construction work with the contractor.
The existing road to the Kaeng Nyui waterfall will be paved over a distance of 6 kilometres and will be 6 metres wide. A parking area, shops, and sidewalks will be built.
The construction of a road and a bridge on the west side of Vangvieng district will involve a double layer of asphalt over a distance of 26-kilometres and a road width of 6 metres.
Drainage will be improved, an existing bridge will be repaired, and a reinforced concrete bridge 80 metres long and 11.6 metres wide will be built across the Nam Xong river.
In June, work began on the area surrounding the Nam Ngum reservoir in Vientiane province in a bid to attract more tourists to the site, with roads and other facilities to be built.
The project is funded by the Asian Development Bank with more than US$4.6 million.
The Ministry of Information, Culture and Tourism aims to upgrade the area and make it more attractive to tourists.
According to a 2019 report, the Asian Development Bank is providing US$47 million for infrastructure development in Vangvieng district and around the Nam Ngum reservoir to spur the growth of tourism in Vientiane province.
By Times Reporters
(Latest Update September 8, 2021)