PM calls for tighter security to spur development in Xaysomboun
Maintaining security should be a top priority for Xaysomboun provincial authorities in accelerating local development, Prime Minister Phankham Viphavanh has told the province's leaders.
The premier gave the advice during a visit to Xaysomboun on Wednesday. He also chaired a meeting to review the progress made in implementing the government's policy on economic development in the province.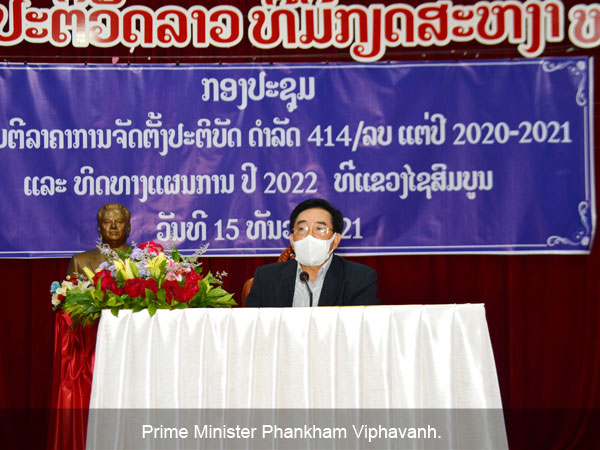 Mr Phankham stressed the need for provincial authorities to shoulder more responsibility in maintaining peace and security and encouraging economic growth in local communities.
All sources of insecurity must be removed so that local people can continue to earn a living and contribute to the development of the region, he said.
The prime minister urged provincial leaders to do more to attract private sector investment in order to capitalise on the potential offered by the province.
The growth of private investment in various fields should help to generate job more opportunities, boost economic growth, and support poverty reduction efforts.
It is essential to encourage the private sector to build factories and carry out development projects as a way to generate more income for local communities, Mr Phankham said.
Xaysomboun authorities were also advised to focus on environmental issues and ensure a balance between development and environmental protection.
The province's leadership should also create new sources of revenue while plugging loopholes that lead to financial leaks.
Local leaders were urged to follow the government's austerity policy, use their budgets efficiently, and to spend money only on essential projects.
Over the past two years, Xaysomboun province has approved 36 investment projects with a total value of US$296 million, the Governor of Xaysomboun province, Major General Khamlieng Outhakaysone, said.
Xaysomboun has huge potential for the development of agriculture and forestry, tourism, hydropower, mining and services, he added.
He noted that the poverty rate in Xaysomboun province has declined following the improvement of road access to other provinces.
The governor pledged to encourage local people to maintain security, help combat the spread of Covid-19, and contribute more to local development.
By Times Reporters
(Latest Update December 17, 2021)