PM calls for acquisition of more vaccines to boost immunisation programne
Prime Minister Phankham Viphavanh has directed authorities to seek out and acquire more Covid-19 vaccines to accelerate the country's inoculation programme.
The premier gave the directive on Monday during a video-conference with the National Taskforce for Covid-19 Prevention and Control and provincial taskforces.
The acquisition of vaccines and the vaccination drive must be regarded as a focal work and be taken up without any delay, he said.
The directive came against the backdrop of Laos struggling to contain a second wave of Coronavirus infections. Authorities believe speedy vaccination will help protect the people from the dreaded virus.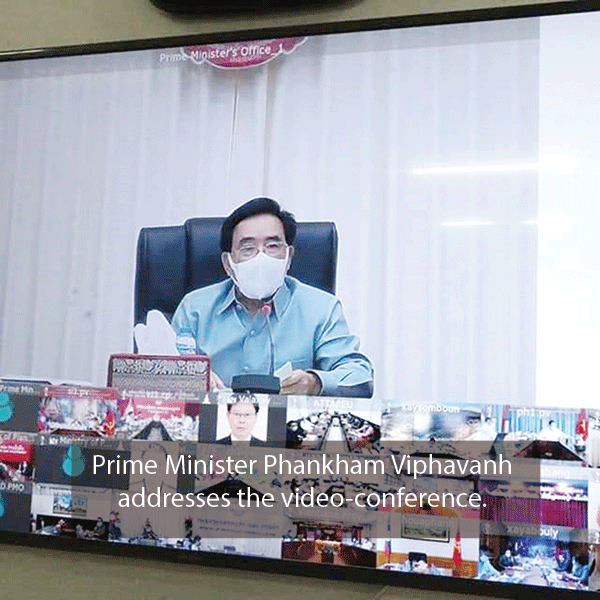 A total of 533,172 people in Laos have received the first dose of Covid-19 vaccines, while 90,405 had received the second dose as of May 16.
With the total number of confirmed cases rising to 1,638 as of May 17, including 1,054 active cases that are currently being treated, Prime Minister Phankham told authorities to exchange information on best practices for treatment with friendly countries.
A total of 582 people have been discharged after treatment and two people have died so far after being infected.
The premier underlined the need to upgrade medical equipment in order to meet the growing requirements of treating affected people. He suggested funds should be appropriately allocated for essential spending.
During the meeting chaired by the Prime Minister, the taskforces were directed to properly prepare sufficient personnel, especially medical staff, to effectively cope with the current outbreak.
The taskforces were also told to frame revised Covid-19 prevention and control measures that will be imposed after May 20, the day when the current lockdown is set to end.
Prime Minister Phankham suggested that authorities could assess which measures under the lockdown could be eased, and which could be tightened in accordance with the developing circumstances. The meeting also reviewed the implementation of Covid-19 prevention and control measures, especially those under the Prime Minister's Order No 15.
The premier, representing the Party and government, praised the national and provincial taskforces, especially frontline officials, for their hard work in battling the Coronavirus outbreak. He expressed thanks and gratitude to all sectors and friendly countries for the support and assistance extended to the Lao government in the fight against the pandemic.
Prime Minister Phankham told the authorities to attach great importance to introducing a policy to reward frontline officials, especially medical staff in-charge of caring and treating Covid-19 patients.
He expressed confidence that the taskforces and authorities would help Laos contain the outbreak by working in cooperation with various sectors.
By Souksakhone Vaenkeo
(Latest Update May 18, 2021)