Party leadership resolves action to address national agendas

The Lao People's Revolutionary Party's central committee has resolved action aimed at addressing economic and financial difficulties and drug abuse, which have been named national agendas.
The central committee reached the resolution at its extraordinary plenary session, which took place from June 21-25 at its headquarters in Vientiane.
Chaired by Party Secretary General Thongloun Sisoulith, the meeting agreed on measures to address the economic and financial difficulties presented by the government. These include strengthening revenue collection, encouraging austerity, increasing the effectiveness of state investment, spending and debt repayment and stabilising currency.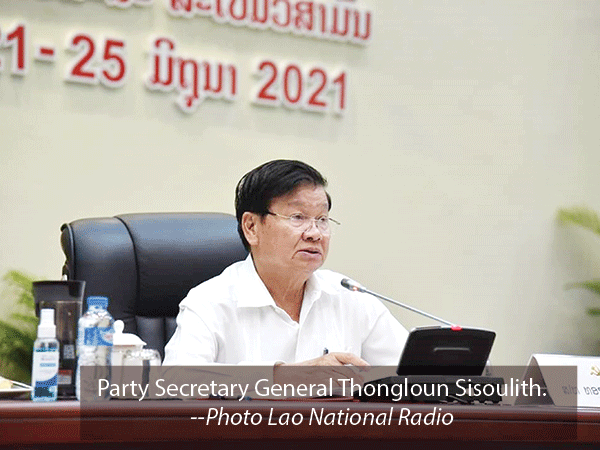 The five-day sitting also resolved on the need to create a service, business and production base that was adequate to meet domestic supply and demand, along with increasing export and revenue sources.
The Party central committee resolved that addressing the issue of narcotic drugs was an urgent and essential task because drug abuse and trade are having a huge impact on national security and social order.
In this regard, the meeting stressed the urgent need to take action to prevent and suppress drug networks in a systematic manner, as well as prosecuting those involved in drug-related cases in a strict, transparent and just manner.
The meeting reviewed the implementation of personnel affairs in past years in order to summarise the lessons learnt and improve these affairs in the years to come.
This would ensure the effective training and deployment of personnel along with implementing policy in this regard and disciplining those engaged in misconduct in a systematic manner.
Addressing the meeting, Party Secretary Thongloun said the entire Party, state and people were determined to work on the national agendas by addressing the difficulties facing Laos.
Mr Thongloun, who is also state President, called on all Party central committee members to place more importance on their role as leaders and to fulfil the resolution adopted by the meeting.
By Times Reporters
(Latest Update June 28, 2021)