Party resolves to address inflation, debt, unemployment

The Lao People's Revolutionary Party's Central Committee has resolved to intensify action to systematically address issues concerning the inflation rate and debt, while also striving to create more jobs.
The Party's 11th tenure central committee adopted the resolution at the conclusion of its 3rd Plenary Session, which convened from October 18-22.
Chaired by the Secretary General of the Party Central Committee, Mr Thongloun Sisoulith, the meeting noted that progress made in creating job opportunities fell short of the target.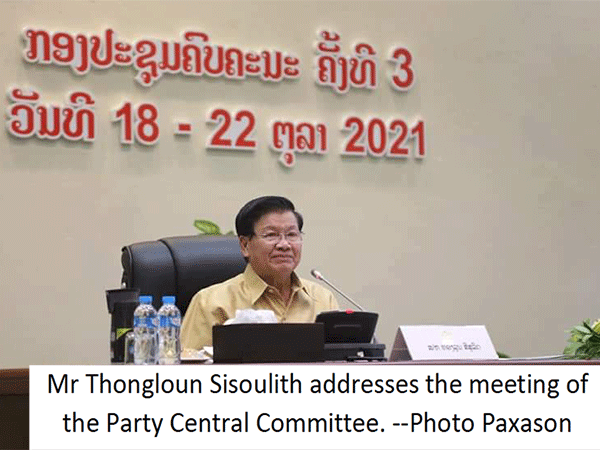 Recent reports suggest that unemployment has risen following the severe impact on businesses caused by the Covid-19 outbreak. In addition, thousands of Lao workers flocked home from Thailand due to the widespread outbreak of the virus in that country, which worsened the unemployment situation in Laos.
The session also agreed to escalate action to address issues concerning currency exchange rates and the rising cost of living, while striving to maximise revenue collection.
The meeting entrusted the government, Party committees and authorities at all levels to take earnest action to address any shortcomings.
Participants reviewed the progress made in implementing the national socio-economic development plan, budget plan and currency plan.
The meeting spelled out measures to fulfil the socio-economic development plan and budget plan in the last quarter of 2021.
Authorities were told to draw up next year's socio-economic development plan and budget plan.
The meeting noted that intensified action had been taken to combat the Covid-19 outbreak. The meeting also observed that Laos continues to enjoy strong political stability and social order alongside socio-economic development, which saw gross domestic product grow by 2.8 percent.
Participants were in agreement on national defence, security and foreign affairs. In this regard, the Party has adhered to its foreign affairs policy of peace, independence, friendship and cooperation for the enhancement of mutual interests as well as non-interference in the affairs of other countries. This policy creates conditions conducive to continued national development.
During the meeting, participants reviewed the leadership and supervision of the Party Central Committee as well as the performance of each Party Central Committee member.
By Times Reporters
(Latest Update October 25, 2021)