Phongsavanh Group breaks ground for Smart City Development Project

Phongsavanh Group Co., Ltd. (PSVG) on Thursday held a groundbreaking ceremony to start construction of a model modern city project named 'the Smart City Development Project' at the Vientiane Industry Zone.
The event was attended by Vientiane Mayor, Dr Atsaphangthong Siphandone; Vice Chairman, Major Shareholder Committee of Phongsavanh Group and Managing Director of Phongsavanh Bank, Mr Phaiboun Phongsavanh; ambassadors, officials from districts and relevant sectors in Vientiane; and PSVG's affiliates.
The project, which was agreed to under a Memorandum of Understanding signed in 2017, will cover a 300-hectare site located in the 1,376-hectare Vientiane Capital Industrial Estate Project.
The initial phase will see the construction of a 20-hectare project designed by Singapore's Surbana Jurong company as a model modern city. Then the project will continue to develop the smart city to expand further in the remaining 280 hectares, a press release stated.
The project is based on Vientiane's 9th five-year Socio-Economic Development Plan (2021-2025) to promote and apply a multi-sectoral economy for the country's development; promote investment, trade and tourism for continuous growth and high efficiency; strengthen the production base in the potential economic structure of Vientiane in modern, clean and environmentally-friendly ways; and create a balanced and sustainable development model.
The Smart City project will be rolled out in line with the policy to create a new city based on Vientiane's strategic and socio-economic development plans.
PSVG has been assigned by the government as Vientiane's authority to participate in the project design and development.
Dr Atsaphangthong said "It is a huge national project which will be implemented in Vientiane with an investment value of about US$580 million. It will be a model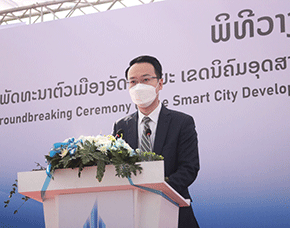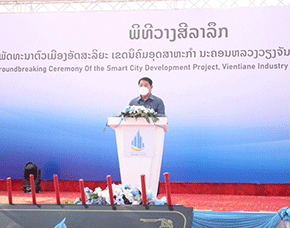 project for the systematic urban development of Vientiane and an important contribution to Vientiane's socio-economic development. It is Vientiane's development plan to improve the standard of living in Laos."
Mr Phaiboun said the term "smart city" means the creation of a hub for economic development, culture, environmental protection, and comprehensive infrastructure development to include roads, water supply, electricity, telecommunications and communications, hospitals, schools, and modern shops.
This will be achieved by using modern technology for efficient and effective management and to ensure balanced and sustainable development in line with Laos' long-term development plans.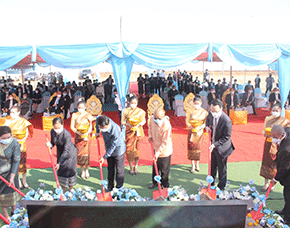 Mr Phaiboun explained that the goal of building a modern city is important for contributing to the nation's development in many ways.
"Firstly, it aims for economic development in a sustainable way to attract both domestic and foreign investors by creating conditions that strengthen the domestic production base."
"In particular, it aims to develop and upgrade Laos' light industry so that it is more efficient and of higher quality and in line with international standards. It also aims to create business and jobs for Lao people and build an economy that generates and distributes income widely."
"Secondly, the environment is an important issue. It is important to manage natural resources so they are preserved and safeguarded both for people and investors by using new technologies and innovations to create a better environment for people and ensure that society is safer and more secure."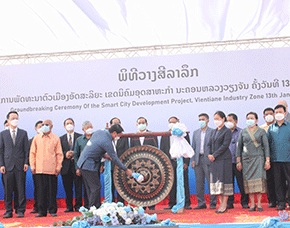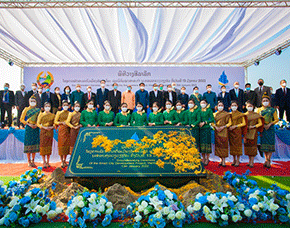 "And lastly, the development of a modern city aims to improve people's quality of life and provide them with a clean and safe environment and convenient and efficient systems that enable access to health services, education and other services."
At the groundbreaking ceremony, PSVG promised that its programme would continue to push for the development of the most modern trade and service area.
It will include offices, residential and commercial, health and transport, trade and service, international trade zones, and green areas, with the goal of attracting more domestic and foreign tourists in the coming years, and creating stable jobs.
By Advertorial Desk
(Latest Update January 17, 2022)