Prime Minister joins tree plantation drive

Prime Minister Phankham Viphavanh joined students at the Faculty of Architecture, Lao National University, to plant 90 rosewood trees to mark National Arbour Day on June 1.
This is a part of the government's plans to plant 35 million trees over 36,950 hectares this year and to restore up to 70 percent of its forest cover by 2025.
Many provinces and state organisations across the country also held tree planting drives to mark this day. Luang Prabang and Savannakhet provinces held the drives at the provincial administrative offices.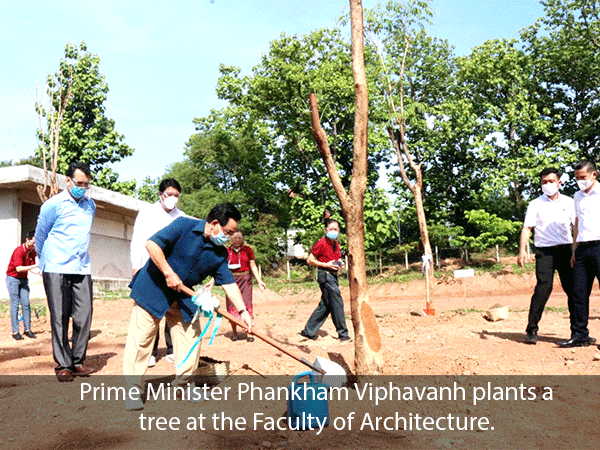 These two provinces plan to plant trees over thousands of hectares, but the actual figure is not in yet.
Champassak province held a tree planting ceremony at Dong Huasao National Protected Forest this year, in a bid to plant trees over 2,020 hectares and restore 8,050 hectares of lost forests.
These campaigns are important to achieve the nation's forest cover targets as well as to mitigate the effects of climate change, protect biodiversity, restore fertile forests for commercialisation, for environmental protection, and for reducing air pollution.
"It is important to plant trees in a planned manner and to protect them to be able to grow well," the Prime Minister stressed in his speech on the occasion of International Children's Day, and National Arbour Day on June 1.
The Ministry of Agriculture and Forestry has marked the areas for tree plantations across the country 5,500 hectares for environmental conservation, 27,500 hectares for commercial plantations, and 3,590 hectares on public land.
The Lao PDR currently has about 62 percent forest cover, which is relatively high compared to other countries in the region and internationally.
According to the 9th Five-Year Socio-Economic Development Plan of the Government from 2021-2025, the ministry will continue to promote locals to plant trees and to restore forest cover up to 200,000 hectares for commercial plantations, 160,000 hectares for protecting water resources, 40,000 hectares for environmental conservation, and the restoration of natural forests for up to 1,800,000 hectares.
By Times Reporters
(Latest Update June 2, 2021)