River border patrols beefed up in Champassak, Savannakhet

Border patrols on the Mekong River are being stepped up in Champassak and Savannakhet provinces to prevent people entering Laos illegally from Thailand, after these provinces recorded a spike in Covid-19 infections.
On July 12, Champassak province recorded 43 new imported cases of the virus and Savannakhet province recorded 42 imported cases, according to the National Taskforce for Covid-19 Prevention and Control.
Deputy Head of the Public Security Department in Champassak province, Lieutenant Colonel Sivilay Keopaseuth, told Vientiane Times his staff were partnering with soldiers to patrol the river to prevent people entering from Thailand illegally.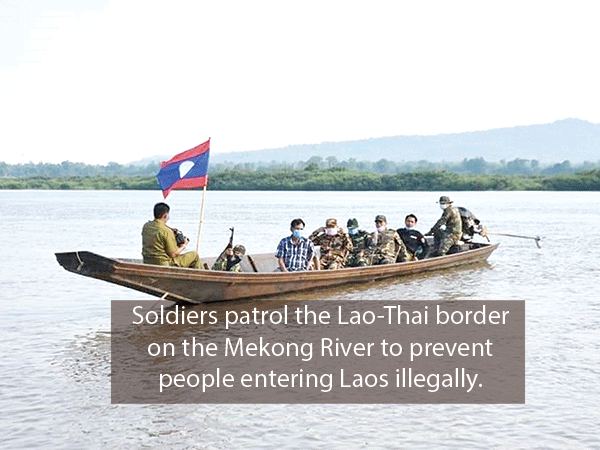 Border controls have been enhanced under the Prime Minister's Order on the Reinforcement of Measures for the Containment, Prevention and Response to the Covid-19 Pandemic, which was issued in the middle of April.
Police and soldiers are using longboats to patrol the river. They detained two Thai nationals attempting to enter Champassak province illegally, who were quarantined for 14 days before being sent back to Thailand.
Teams are monitoring boats crossing the Mekong River around the border area with Thailand to prevent people entering Laos illegally and avoiding screening for Covid-19. Officials are calling on everyone to strictly comply with the guidelines advised by the National Taskforce Committee for Covid-19 Prevention and Control.
The virus spread in Laos after two Thai nationals illegally entered Savannakhet province in April and allegedly passed on the virus to others.
Laos has seen a spike in imported cases of Covid-19 since the start of this month. Most of the new infections were found among Lao workers returning from Thailand. On July 12, Lao authorities reported 106 new Covid infections, with the total number now standing at 2,825.
The new infections were detected in Vientiane (12 imported cases), Vientiane province (2 community-acquired cases), and Khammuan province (7 imported cases). Vientiane has not recorded any new locally-transmitted cases since last week, but Savannakhet and Champassak provinces have seen a surge in imported cases of Covid.
All Lao nationals wishing to return to Laos from Thailand, including those who have been working there illegally, should enter at official border crossings and will not be fined, according to the Immigration Police Department.
Those who originally entered Thailand illegally should also report to immigration officials upon returning to Laos. They will be issued with a warning but will not be fined.
Lao nationals who do not have proof of citizenship should provide immigration officials with their personal details, family history, and details of their work in Thailand, so that their nationality can be proved before they are allowed to enter Laos.
By Times Reporters
(Latest Update July 13, 2021)