Savannakhet authorities monitor return of migrant workers
Authorities in Savannakhet have directed district officials to oversee efforts to facilitate the quarantining and safe return of Lao workers from neighbouring countries.
Most of these workers have entered Laos from Thailand via border checkpoints after their employers temporarily ceased operations because of the Covid-19 pandemic.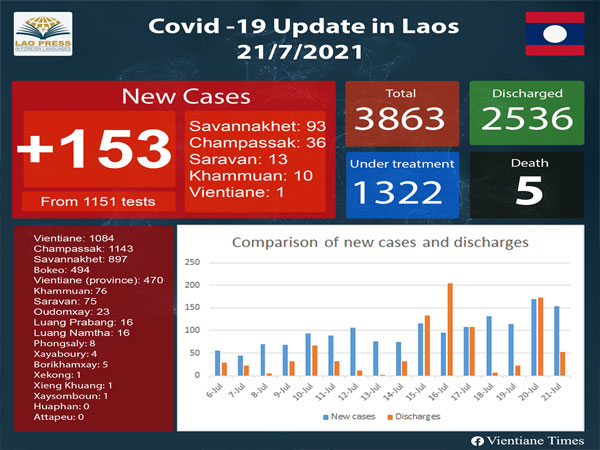 A member of Taskforce Committee for Covid-19 Prevention and Control in Kaysone Phomvihane city informed the Savannakhet provincial governor, Mr Santiphab Phomvihane, about measures being taken by local authorities when he visited local quarantine facilities on Tuesday to check on officials overseeing the safe return of Lao workers.
The measures include health checks for workers in their hometowns. Village officials are supervising 14 days of quarantine to ensure they are not infected.
He said authorities in Kaysone Phomvihane city also needed to mobilise more volunteers to help the Lao workers returning via the second Lao-Thai Friendship Bridge and to prevent the spread of Covid-19.
The National Taskforce Committee for Covid-19 Prevention and Control has advised anyone in self-quarantine at home not to go out for nonessential activities and to avoid coming in contact with or getting close to other people.
Family members or employers are required to facilitate their daily needs, including food, while being quarantined. The quarantined people need to monitor their condition daily, including any flu-like symptoms, coughing and breathing difficulty, while taking good care of their health and always washing hands.
Workers under 14-day self-monitoring at home can go out for essential activities, but are required to wear a mask. Anyone who develops flu-like symptoms can contact the taskforce committee.
Leading a press briefing on behalf of the taskforce, the Deputy Director General of the Department of Communicable Diseases Control of the Ministry of Health, Dr Phonepaseuth Xayamongkhoun, gave an update on the Covid-19 outbreak.
A total of 153 new infections were confirmed around the country on Wednesday. Of the new cases, Vientiane recorded one case, Khammuan recorded 10 cases, Savannakhet recorded 93 cases, Champassack recorded 36 cases, and Saravan saw 13 cases that are all believed to be imported.
The capital remains free of community transmission, and the countrywide total for infections since March last year has risen to 3,863, the National Taskforce told the press briefing.
The new infections were discovered after 1,151 samples were tested for the virus.
Dr Phonepaseuth urged everyone to act responsibly and to continue to comply with all of the Covid-19 prevention measures and lockdown rules.
Although the number of new Covid-19 cases continues to fall, the government is continuing with measures to contain the spread of the virus in target areas of Vientiane.
Some 6,664 people have been admitted to 48 quarantine centres across the country and samples taken from them are being tested for the virus.
By Phetphoxay Sengpaseuth
(Latest Update July 22, 2021)