Second makeshift hospital opens, friendly countries to assist
The Lanexang Indoor Stadium has been turned into a makeshift hospital to accommodate Covid-19 patients in Vientiane after a surge in infections in recent days.
The facility in Don Koi village, Sisattanak district, was officially opened on Monday after the sports centre was transformed into a 303-bed hospital.
Addressing the opening ceremony, Vientiane Mayor Atsaphangthong Siphandone said essential equipment had been installed and several emergency rooms set up.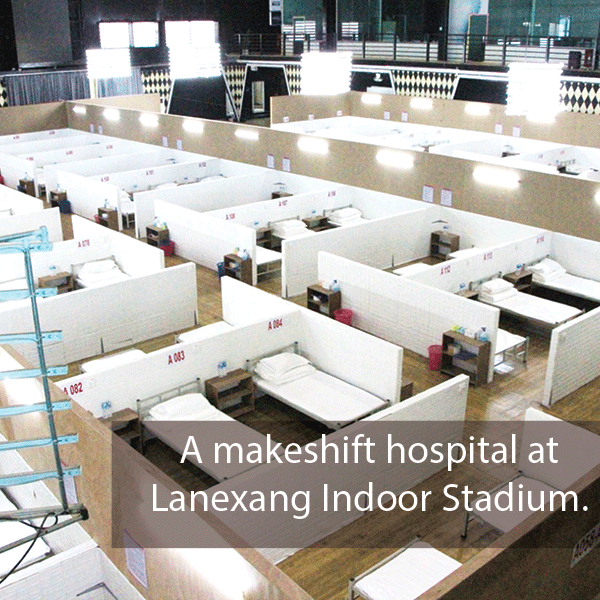 It is the second makeshift hospital to be prepared in the capital after the Lao Football Federation's sports centre in Huayhong village, Chanthabouly district, was kitted out with the necessary facilities to accommodate at least 200 patients.
Temporary hospitals are being set up to provide extra beds to meet the needs of the rapidly rising number of people testing positive for Covid-19. Laos is struggling to contain the outbreak, with dozens of new cases being recorded daily over the past few weeks.
As of May 3, Laos had recorded 966 cases including 607 in Vientiane.
Mr Atsaphangthong expressed heartfelt thanks to the management of the private Lanexang Indoor Stadium and the relevant state and private bodies for their assistance in converting the stadium into a hospital.
Deputy Prime Minister and Chairman of the National Taskforce for Covid-19 Prevention and Control, Prof. Dr Kikeo Khaykhamphithoune, said he greatly appreciated the contribution of all those involved, which he said would reinforce the government's efforts to contain the virus outbreak.
He stressed the need to mobilise more contributions and cooperation from all sectors of society in the battle to curb the outbreak.
He informed those attending the opening ceremony that teams from Vietnam and China were scheduled to arrive on Tuesday May 4 to assist their Lao counterparts.
"This is invaluable and timely assistance," he said.
In addition, Laos is regularly sharing information about the pandemic, related issues, and methods of treatment with countries around the world, he added.
Prof. Dr Kikeo underscored the need to ensure that people continue to strictly observe Covid-19 prevention and control measures, while countering fake news reports that have caused unnecessary panic among the general public.
By Times Reporters
(Latest Update May 4, 2021)