Switzerland funds food provision at quarantine centres
The Swiss Agency for Development and Cooperation (SDC) has provided food assistance valued at US$790,000 for migrant workers returning from neighbouring countries during their stay at quarantine centres in Laos.
The funding was agreed on Monday by SDC Mekong Region Director Jean-Francois Cuenod and Minister of Health Dr Bounfeng Phoummalaisith, who signed an agreement on the provision of food assistance.
The funds will be allocated to quarantine centres in Vientiane and the provinces of Vientiane, Xayaboury, Bokeo, Savannakhet and Champassak. The scheme will be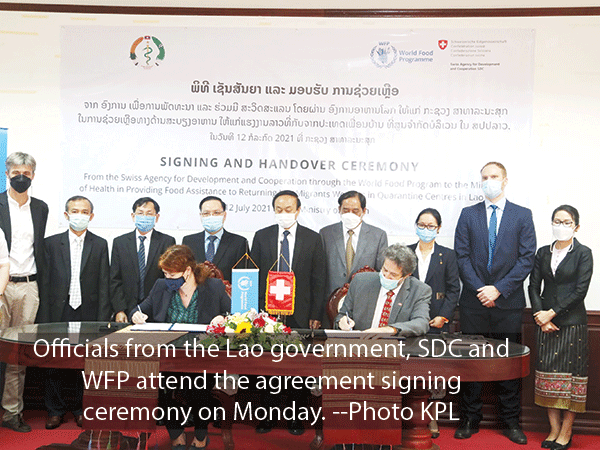 rolled out by the World Food Programme (WFP) and partners to offer nutritious meals three times a day for returning migrant workers.
The funding will be sufficient to give 335,000 meals to an estimated 8,000 people housed in quarantine centres for a period of two and a half months.
Speaking at the agreement signing ceremony, Dr Bounfeng said the funds would ensure that daily meals could be provided throughout each person's 14-day mandatory quarantine period.
The provision of food would help their health and wellbeing, while reducing the financial burden on them and their families, he added.
The minister said the recent Covid-19 outbreak in Laos could be linked to a spike in the number of infections in neighbouring countries, and that quarantine centres played a vital role in containing the spread of the virus.
He said he would be happy to know that all Lao people were able to return home if they wished and that everyone in the country was safe while the disease was brought under control.
SDC Mekong Region Director Jean-Francois Cuenod said the specific support with the WFP was part of a broader effort from Switzerland to support Laos in combating Covid-19 and recovering from economic crisis in the wake of the pandemic. Switzerland has already provided assistance to Laos worth a total of US$3.5 million through several projects in compliance with the Lao government's Covid-19 prevention and control strategy.
WFP Country Deputy Director Jacqeline de Groot, who was also present at the signing ceremony, said WFP was delighted that the Swiss government was helping to support returning migrants, who had faced challenges regarding their income and livelihoods. WFP's assistance initiative is taking place in partnership with the Swiss Red Cross, Lao Red Cross and World Vision International, who have delivered about one million meals to over 42,000 beneficiaries since June 2020.
"With this new funding from the Swiss Agency for Development and Cooperation, we can continue this much-needed activity," Ms de Groot said.
By Times Reporters
(Latest Update July 13, 2021)