Thanaleng Dry Port, Vientiane Logistics Park bolster Laos' logistics link, land-link transformation effort

Thanaleng Dry Port (TDP) and Vientiane Logistics Park (VLP) – two mega infrastructure projects - are set to significantly bolster the Lao government's efforts to transform Laos into a logistics link and land-linked country within the region and beyond.
Thanaleng Dry Port is a dry port of international importance, approved by the UNESCAP through Resolution No. 69/7 on the Intergovernmental Agreement on Dry Ports adopted in Bangkok on May 1, 2013.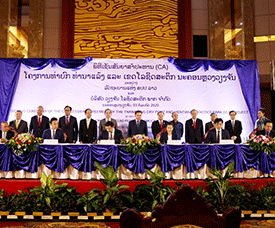 Officials sign a project concession agreement.
TDP tops the list of development priorities in the Lao National Logistics Strategy from 2016 to 2025 adopted under PM decree No. 158/GOL dated May 27, 2015, an action plan that will drastically transform Laos from being landlocked to a land-linked country.
Once it is realised, the project, which is being developed in the capital Vientiane, will provide advanced and modern logistics services for various forms of transport. The project is planned to link with sea trade routes, airport, and railways. Therefore, the project will bolster and maximise trade and investment potentials.
In the near future, the project is planned to link with the Vung Ang seaport in Vietnam's central Ha Tinh province, which the Lao and Vietnamese governments have agreed to jointly develop.
The governments of Laos and Vietnam have also agreed to build a railway connecting Vientiane with the seaport to facilitate transport.
Feasibility studies for the TDP and VLP have been conducted in accordance with a Memorandum of Understanding signed on April 5, 2019.
After the feasibility studies and environmental impact assessment were completed, meetings were held to discuss the project and related issues among the sectors concerned.
On February 7, 2020, the Lao government approved the feasibility studies and gave the green light for the establishment of the Vientiane Logistics Park Company Limited to execute the project.
Meanwhile, the company and the government signed a 50-year project concession agreement in the form of BOT (Built Operate Transfer).
On July 3, 2020, a groundbreaking ceremony was held to start construction of the TDP and VLP in Dongphosy village, Hadxaifong district, Vientiane.
Taking part in the ceremony were then Minister of Public Works and Transport, Dr Bounchanh Sinthavong; Deputy Minister of Planning and Investment Mrs Khamchanh Vongsaenboun; Founder and Honorary Chairman of Phongsavanh Group, Mr Od Phongsavanh; President of VLP Co., Ltd. Mr Chanthone Sitthixay; and relevant officials from both sides.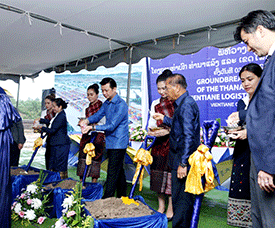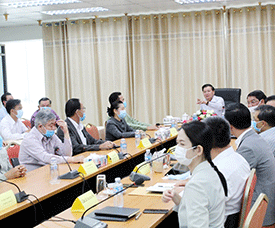 The Thanaleng Dry Port and Vientiane Logistics Park are being built on a 382-hectare site with a total investment cost estimated at US$727 million.
Development of the project is divided into three phases as follows:
- Phase 1: The transition phase through the management of Container Yard from Lao Logistics State Enterprise (LLSE) to the intermodal service of Thanaleng Dry Port, at the same time there are also transitions of client database and services into Terminal Operating System (TOS) of Thanaleng Dry Port on 1st June 2021.
- Phase 2: Soft Opening of TDP and VLP are expected to be at the beginning of August.
- Phase3: Logistics park is expected to open for service in the first quarter of 2022.
Once construction is complete, the Lao PDR will have world-class modern and systematic infrastructure for transport connectivity including land, air and sea transport. This will improve logistics and transport competitiveness, thus facilitating trade and investment in the Lao PDR.
Vientiane Logistics Park is the only comprehensive logistics park in Vientiane and comprises five zones in one location as follows:
1. Thanaleng Dry Port (TDP): The dry port acts as the centre of international import and export trade with all categories of customs operations. Importantly, quality equipment, vehicles and warehouse systems will be installed professionally to enable the processing of larger numbers of containers. Use of the Terminal Operation System (TOS) will guarantee the best service in terms of speed, security and reliability.
2. Tank Farm: This facility will store liquid bulk cargoes for importing and storing fuel from Thailand and will serve as a fuel distribution centre for Laos. Diesel and petroleum products will arrive at the tank from a dedicated rail yard and pipeline in the future.
3. Logistics Park: The main service provided by the Logistics Park is a warehousing and distribution centre which offers goods storage, consolidation, distribution, inventory management, and warehouse management.
4. Free Trade Zone (FTZ): The main business activities in the zone are the HALAL Hub and Agriculture Production Park, Technology Park, Office Zone, SME Building Area, Commercial Zone and Landmark (VLP Co., Ltd. office).
5. Export Processing Zone (EPZ): The new destination as a modern and most dynamic EPZ in the region, this will offer a more competitive business environment and will gear up to become a manufacturing export hub for the Asean and global consumer market.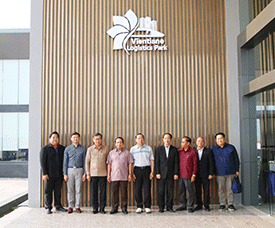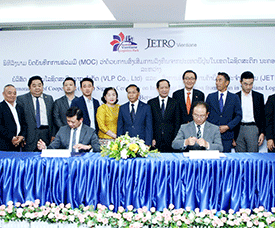 By Advertorial Desk
(Latest Update June 2, 2021)