Train stations in Kasy, Vangvieng now 85 percent complete

The final two stations of the Laos-China railway under construction in Kasy and Vangvieng districts, Vientiane province, are now 85 percent complete, with the railway scheduled to become operational in December.
A progress report on the railway was delivered on July 24-25 when Deputy Prime Minister and Minister of Planning and Investment, Dr Sonexay Siphandone, and other government officials visited the under-construction stations and other development projects in the two districts.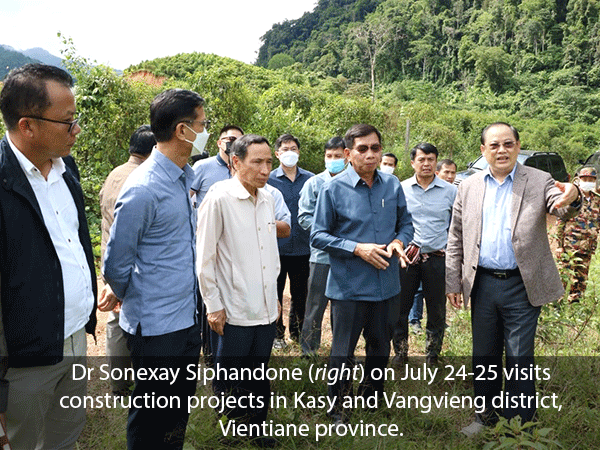 Construction of the stations began in July last year and will be completed at the end of August or the beginning of September.
The station in Kasy district can accommodate up to 150 passengers and covers an area of 1,500 square metres while the station in Vangvieng can accommodate up to 600 passengers and has a total area of 5,000 square metres.
Dr Sonexay advised the contractor to speed up construction so the stations are completed according to plan.
Minister of Public Works and Transport Mr Viengsavath Siphandone also inspected the progress of the Laos-China railway in Oudomxay province, where everything is set for completion and opening for public use on December 2.
The whole of the 422.4-km railway is set to become operational on December 2, National Day, according to the Laos-China Railway Co., Ltd.
Track has been laid along the entire length of the railway and will undergo testing in August, a project official said.
The railway has 10 passenger stations in Vientiane, Phonhong, Vangvieng, Kasy, Luang Prabang, Nga, Xay, Namor, Natuey and Boten, as well as 22 freight stations.
The Laos-China railway runs from Vientiane through the provinces of Vientiane, Luang Prabang, Oudomxay and Luang Namtha, and ends at the Chinese border in Boten.
Construction of the US$5.986 billion (37.4 billion yuan) project began in December 2016. It is a strategic part of China's Belt and Road Initiative and Laos' plans to transform the country from being landlocked to a land link within the region.
Use of the railway will cut the cost of transport through Laos by 30-40 percent compared to travel by road.
By Times Reporters
(Latest Update July 28, 2021)