Two heads of state launch historic Laos-China railway
President Thongloun Sisoulith and his Chinese counterpart Xi Jinping officially opened the historic US$5.9 billion Laos-China railway in an online ceremony on Friday afternoon, bringing new hopes of economic growth to landlocked Laos and its 7 million inhabitants.
President Thongloun gave the order for the first train on the railway to depart Vientiane on the long-awaited landmark journey.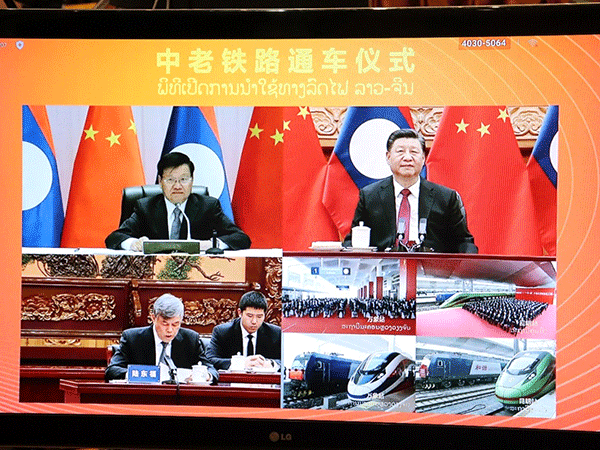 The train carried Prime Minister Phankham Viphavanh, who led a group of senior officials on the first ride on the Lane Xang train, heading for a station further north.
Meanwhile, Chinese President Xi Jinping gave the signal for the first train to head south to Vientiane from Kunming in southwest China's Yunnan province.
The grand opening of the railway on Friday was also attended by senior officials from Laos and China.
Speaking during the opening ceremony, Mr Thongloun said the inauguration was an event of major historical significance, starting a new chapter in the development of modern infrastructure in Laos.
"The railway brings great pride to the people of Laos, as their dream [to have a railway] has now become reality. It also symbolises the growing cooperative relations between Laos and China," the president said.
"Laos fully and consistently supports the Belt and Road Initiative and Laos will directly benefit from it. The Laos-China railway is a strategic cooperation project between the two countries, helping Laos to build on its landlocked status by becoming a land-linked hub."
Mr Thongloun said the railroad was a gift to the Lao people to mark the 46th anniversary of the Lao PDR and the 60th anniversary of the establishment of Laos-China diplomatic relations.
"One of the main challenges for Laos in attracting foreign investment and tourism is its inconvenient infrastructure, which results in high transport costs. With support from China, an expressway and a railway have now been built in Laos. I believe that this historic railway will spur comprehensive development in Laos," he added.
Chinese President Xi Jinping also highlighted the importance of the railway, which will greatly shorten travel time between Vientiane and Kunming, and called for the two countries to ensure it benefits the people of Laos and China in many ways.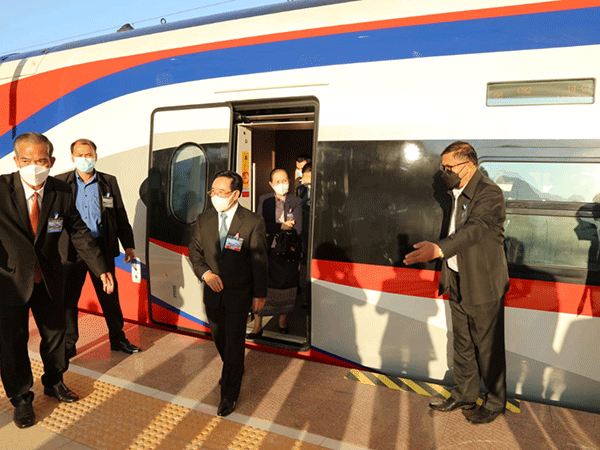 The opening of the 426-km railway is a milestone in Laos' history and should be a game changer as Laos strives to become an integral part of regional supply chains and integrate itself economically with the rest of the world.
Built according to Chinese technical standards, the railroad connects Vientiane with Kunming over a distance of 1,035 kilometres. Trains can travel at a top speed of 160 kilometres per hour.
This means the journey time between Vientiane and Kunming is just 10 hours, including the time taken for customs clearance.
With construction beginning in 2016, the railway runs from the Lao-Chinese border at Mohan-Boten southwards to Vientiane. It is the first external rail route to connect to China's rail network and forms part of the larger Kunming-Singapore rail link, which passes through Laos, Thailand and Malaysia.
This major improvement in logistics will enable Laos to address its geographic disadvantages and transport barriers while creating a much stronger link with China - the world's largest market - and beyond.
The track passes through 75 tunnels in mountainous areas of northern Laos with a combined length of 197.83km, constituting nearly half of the total route.
Despite geographic challenges and the Covid-19 pandemic, Chinese companies completed the construction of the railway as planned.
Passenger services on the railway will begin on December 4.


By Somsack Pongkhao
(Latest Update December 3, 2021)