US-funded project backs nutrition research in Laos

Catholic Relief Services (CRS) and the Ministry of Health have signed a Memorandum of Understanding for a new project "Applied Nutrition Research Capacity Building (ANRCB)".
This project is funded by the US Agency for International Development (USAID) through its LASER PULSE programme led by Purdue University.
ANRCB is the newest project under the Lao American Nutrition Initiative (LANI) which will support nutrition professionals to conduct and utilise research to address malnutrition in the Lao PDR.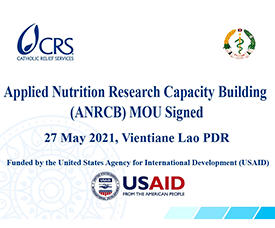 MOU signing ceremony banner.
Laos continues to strive to improve the nutrition and well-being of its people, and this new project will identify and address new ways to improve the lives of the people.
The MoU was signed by the Country Representative of CRS in the Lao PDR, Mr Joshua Poole, and the Acting Head of Office of the Ministry of Health, Dr Chanthanom Manithip.
Representatives at the US Embassy in Laos expressed appreciation for the continued work of the MoH and CRS. This year the United States and Laos are celebrating the 5th anniversary of the US-Laos Comprehensive Partnership. This project reaffirms the United States' commitment under the partnership to improve the health and well-being of the people of Laos, thereby supporting Laos to becoming a stronger and more prosperous nation.
The newly launched project will engage with nutrition research experts from Purdue University and Indiana University (two leading US universities) to support the Ministry of Health's Center of Nutrition, the University of Health Sciences, and the Lao Tropical and Public Health Institute to conduct nutrition research, with a focus on capacity building.
The project will also improve nutrition understanding and research quality as well as strengthen coordination and collaboration on nutrition research among government ministries, NGOs, academic institutions, and the private sector. The ANRCB project builds on previous investments in the nutrition sector by the US Government, including the design and building of the new Center of Nutrition complex located in Xiengda village in Vientiane, as well as programmes for maternal and child health, nutrition, and school feeding.
CRS has confidence that under the leadership of the Lao Ministry of Health, with strong cooperation and openness to exploring new ways to form this partnership, there will soon be better paths to identify problems and find timely solutions to address malnutrition in the Lao PDR.
Since nutrition is multi-sectoral, crossing the boundaries of health, agriculture, water and sanitation, and education, this project will engage across government ministries through the Nutrition Secretariat housed at the Center of Nutrition.
By Advertorial Desk
(Latest Update June 9, 2021)